Lobster Boil, Trapshooting, Friends and Fishing
Lobster Boil, Trapshooting, Friends and Fishing
2018 Atlantic Provinces
Story Written By: Andrea Bassan
For most of us, our Atlantic Provinces Trapshooting Championships is more than just our ATA Provincial Shoot. It's an opportunity to see our shooting friends and spend some quality time sharing stories and a few laughs. This year was no different. A couple of weeks before the shoot I mentioned to Doug Blades that we (Troy Coldwell, John Tucker and Peter Tucker) were coming over a day early from Newfoundland and thought it would be great if we could meet for supper. Doug and his dad Brian quickly arranged a lobster boil and with the help of Herbie Nickerson and Aubrey Spinney, the Cape Sable Island Lobster Boil was all set.
Brian and his wife Stephanie invited us to their home on Cape Sable Island and welcomed us in with open arms. I don't think any of us expected what was waiting for us - lobsters, steaks, salads, baked potatoes, desserts and refreshments. Troy, the 2 Tuckers and I were treated like family and we feel very fortunate to be part of such a tightknit shooting community. Yes, we shoot together, but we also like to get together for a time. This is one of the things that I enjoy about trapshooting - aside from shooting. It's the folks you meet and the friendships you make.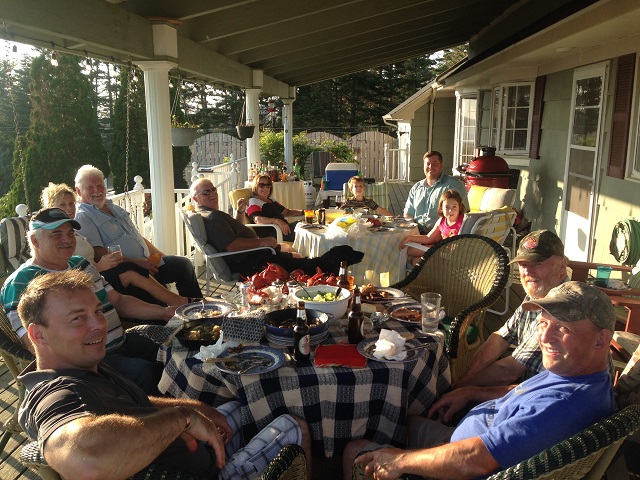 Speaking of friendships made on the trapline: I first met Jim Pollock in 2003 at the St. Thomas Gun Club during the Canadian Trap Championships. We shot together on a few squads, exchanged contact information and kept in touch over the years. Jim first attended our Atlantic Provinces shoot in 2010 in St. John's, NL and since then has been a regular at our annual shoot. Travelling with Jim in recent years is wife Joanne and friends Jim and Dianne Wood. I've known the Woods from serving with them on the Canadian Trashooting Association - Jim as President and Dianne as Secretary. They're no strangers to the work involved in running a shoot and all 4 are quick to other help at our shoots - from scoring, referring shoot-offs and cleaning up. In 2017 Jim W shot on the "Trap Mechanic Squad" that in between shooting helped keep the host club's traps running - without Jim's help I doubt we would have been able to finish the shoot.
And our next regular shoot attendee needs no introduction: Vic Tomlinson from Ontario. Troy and I first met Vic in Elysburg, PA at the 2009 Eastern Zone Championships. Vic was on a squad with us and we've been friends ever since. Vic has a become a regular at our shoots and often brings with him squad mates Brad Treanor or Byron House. Vic was made a honourary Newfoundlander in 2016 and is still practising pronouncing Newfoundland correctly. Vic is a great addition to our shoots and we enjoy having him.
Our newest addition to the Atlantic Provinces shooting community is Dom Stevens who is originally from England but now living in Nanaimo, British Columbia. Doug, Troy and I met Dom at the 2017 Canadians at the Edmonton Gun Club and after a few more laughs and stories at this year's Canadian in Brandon, Manitoba, we convinced Dom to join us in Yarmouth. I think we may have another honourary Newfoundlander in the making here.

Pictured (l to r): Jim Wood, Dianne Wood, Andrea Bassan, Dom Stevens, Joanne Pollock, Jim Pollock, Troy Coldwell, Doug Blades.
Photo Credit: Wayne Malone
On the Labour Day holiday, Herbie knew that we'd be in town for the day and planned a pollock fishing trip for us. I'm like a farmer when it comes to saltwater fishing and thanks to the Nickersons - Herbie, Gary and Janaya - for taking us out on the water. We met at the dock at 7:30 AM and boarded Herbie's lobster fishing boat Every Last Cent for a quick steam out the bay. Gary and Janaya kept us entertained during the short steam out and it wasn't long before Herbie had us on the fish. What a great day. When we had our quota, Herbie had us back to his place for a fish fry. Doug, wife Janine and kids Claire and James joined us. As Herbie says "It don't get no better than this."