APTA Abroad:
Throughout the Trap Shooting Season, many APTA shooters travel all over Canada and the U.S. to represent the Atlantic Provinces at many of the largest organized Trap Shoots.
Previous Years
The 2020 ATA Registered trapshooting season is underway. Here are some of the shoots our shooters will be attending. Good luck shooters. Stay tuned for updates!
Silver Dollar Open - Silver Dollar Shooters Club, Odessa, Florida
Spring Grand - Tucson Trap and Skeet Club, Tucson, Arizona
Southern Grand - Silver Dollar Shooters Club, Odessa, Florida
Great Lakes Grand - Michigan State Homegrounds, Lansing, Michigan
Empire Grand - New York State ATA Homegrounds, Cicero, New York
Canadian Trapshooting Championships - Edmonton Gun Club, Edmonton, Alberta
Ontario Provincial Trapshooting Championships
Quebec Provincial Trapshooting Championships
Scroll down to see most recent articles.
40
th

Annual Southern Grand American

Silver Dollar Shooters Club, Odessa, Florida
March 9 - 15, 2020
Report by: Terry LeBlanc

Dan Pollock and I both rented houses in Davenport Florida this winter and decided we would sign up for the Southern Grand American in Odessa Florida the week of March 9-15. We decided to shoot the preliminary shoots on Tuesday, Wednesday and Friday and then the championships on Saturday and Sunday. Taking the Thursday off turned out to be a great idea as our daily drive from Davenport to Odessa took between 1:40-2:15 each way depending on traffic. So the break on Thursday was well needed.

The Silver Dollar Shooters Club is a very nice facility with 25 trapfields – 24 program traps and one practice trap. They have a very nice clubhouse with food and beverage service and staff that were well prepared and knowledgeable - at least they impressed these two rookies!!. In the clubhouse they had a few monitors with up to date scoring and they had two machines that you could check your scores. If you won any money on the purses, it would also print the cheque out for you. There's also an 18-hole golf course across the road from the gun club along with half of the trapfields. The golf club side also has a restaurant and bar so no matter which side you shot on, you had all the conveniences.

On Tuesday we paid for the week (Cash no Credit Cards) and then we shot Singles, Doubles and Handicap. In Singles, Dan Shot a personal best 97 (including a 50 straight) and won his division - ccongrats Dan! The Doubles and Handicap went well and we were impressed with how well the traps worked and how quickly and smoothly everything went. Wednesday and Friday went very smoothly as well with Dan shooting his first ever 25 straight in Handicap. On Saturday we shot 200 Singles which went fairly quick considering there were over 450 shooters. On Sunday we shot Doubles in the morning and I shot my personal best 93, which was good for a runner-up in my division. In the afternoon we shot handicap and Dan had another 25 straight.

We talked to one of the officials on Saturday afternoon and he told us they had thrown over 600,000 targets up until then for the week, so for this shoot they threw close to 700,000 targets. They were expecting two truckloads of targets Sunday night because they were hosting the Florida State Championships the following week. Unfortunately, the state shoot was postponed to the COVID-19 pandemic.

To sum it all up we had a great time! We were very impressed with the facilities and how well the shoot was run. We also met up with a great bunch of guys from Newfoundland. Dan and I enjoyed it so much we plan on going back next year if everything gets back to normal.

Report by: Paul Bailey aka Old Man Bailey
(excerpt from an email to Andrea Bassan)

This year's shoot and trip (except coming home through Toronto) was probably the best Southern Grand trip we've had - except of course the year you joined us. The weather was definitely the best - not even a foggy morning or too cool start time at 9 AM. Morning's were in the low 70's and by 2 PM in the high 80's. Yah wudda loved it paisano. The Silver Dollar Shooter's Club have been a lot of ground work and also doing lead recovery on their trapfields.

Accommodations were good, breakfasts and dinners good and lunches at the club were also good. And my friend Bud was thoroughly enjoyed every day while the b'ys (Peter and John Tucker, Monty Petipas and Brian Lewis) shot the Doubles. Monty was please to win D Class Runner-up in Monday's Preliminary Doubles event.

The new RAD recoil system I had installed seems too be working excellent but like everything new it's going take some getting used to. I had spurts of good and bad trying different sightings as there was no patterning board available.

We are all doing our 14 day self isolation stint as mandated by provincial and federal regulations for anyone returning from abroad. I will have no trouble recuperating after the trip.

April 1 update: Monty, Peter, John, Brian and Paul have completed their 14 day self isolation and no one is reporting any COVID-19 symptoms.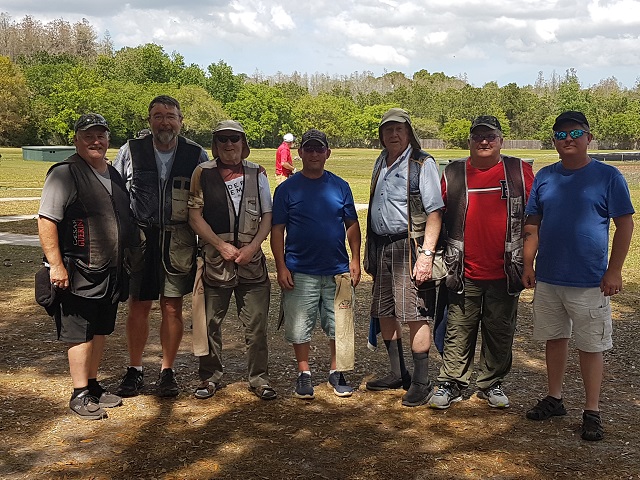 (left to right: Terry LeBlanc, Dan Pollocks, Peter Tucker, John Tucker, Paul Bailey, Brian Lewis, Monty Petipas)