APTA Abroad:
Throughout the Trap Shooting Season, many APTA shooters travel all over Canada and the U.S. to represent the Atlantic Provinces at many of the largest organized Trap Shoots.
Previous Years
2019
2018
2017
2016
2015
2014
2013
The 2019 ATA Registered trapshooting season is underway. Here are some of the shoots our shooters will be attending. Good luck shooters. Stay tuned for updates!
Silver Dollar Open - Silver Dollar Shooters Club, Odessa, Florida
Spring Grand - Tucson Trap and Skeet Club, Tucson, Arizona
Southern Grand - Silver Dollar Shooters Club, Odessa, Florida
Great Lakes Grand - Michigan State Homegrounds, Lansing, Michigan
Empire Grand - New York State ATA Homegrounds, Cicero, New York
Canadian Trapshooting Championships - St. Thomas Gun Club, St. Thomas, Ontario
Ontario Provincial Trapshooting Championships
Quebec Provincial Trapshooting Championships
Scroll down to see most recent articles.
Silver Dollar Open
January 23 - 27, 2019
Silver Dollar Shooters Club, Odessa, Florida
Nova Scotia's Barry Turner attended the Silver Dollar Open hosted by the Silver Dollar Shooters Club in Odessa, Florida. Barry reports that t was cold and windy at the Dollar and scores were generally quite low particularly in handicap. Sounds like just another day shooting in the Atlantic Provinces.
Despite the less than ideal shooting conditions - Barry shot well and his tournamnet wins include:
Wednesday's Preliminary Singles. Class A Runner up
Wednesday's Preliminary Handicap. Veteran Winner
Thursday's Preliminary Singles. Veteran Winner
Singles Championship. Veteran Runner up
Well done Barry. Good shooting.
Spring Grand
February 13-24, 2019
Tucson Trap and Skeet Club, Tucson, Arizona
Herbie and Janaya Nickerson attended the Spring Grand at the Tucson Trap & Skeet Club in Tucson, Arizona. The pair have been making this shoot a part of their mid-winter break from lobstering for several years now.
As most Canadians know, travelling in mid winter can be difficult at times and weather delays are a common inconvenience. After a 2-day travel delay caused by bad weather in Halifax and then having to be rebooked on the "milk run", Herbie and Janaya finally made it to Tucson, all ready for shooting.
Upon arriving at the Tucson club, Herbie and Janaya were greeted by Ontario shooting friends Jim and Dianne Pollock (both regulars at our Atlantic Provinces shoot) and took part in what they could of the Pre-Spring Grand events. Later in the week, Ontario's Jim and Dianne Wood, also regulars at our Atlantic Provinces shoot, joined the group for the Spring Grand main events.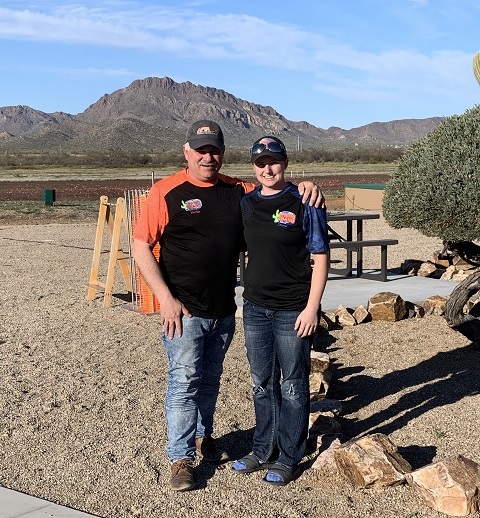 Herbie and Janaya both shot well despite not having shot much since Labour Day weekend during our annual ATA Provincial Championships held at the Highland Gun Club. After an event or 2, both Nickersons were back on their game. Janaya declared Lady I category and was very competitive within that category. Janaya finished in the top 5 in all events entered and during the Monday, February 18 Preliminary Handicap, Janaya won the Lady I trophy. Herbie won B Class in the Tucson Doubles on February 17 and during the Yuma Doubles on Wednesday, February 20, Herbie reached a personal best milestone and shot his first 50 straight in Doubles. Congrats Herbie and Janaya. Good shooting.
Most shooters head to Tucson for a mid winter break – or so they think. To the surprise of most, snow caused headaches for shoot organizers, shooters and staff. I guess it goes without saying – be prepared. One question for Fly Jim. That 'vette have winter tires?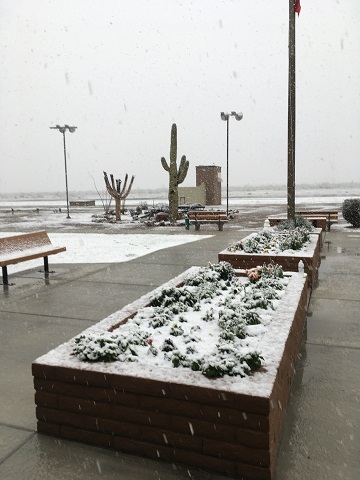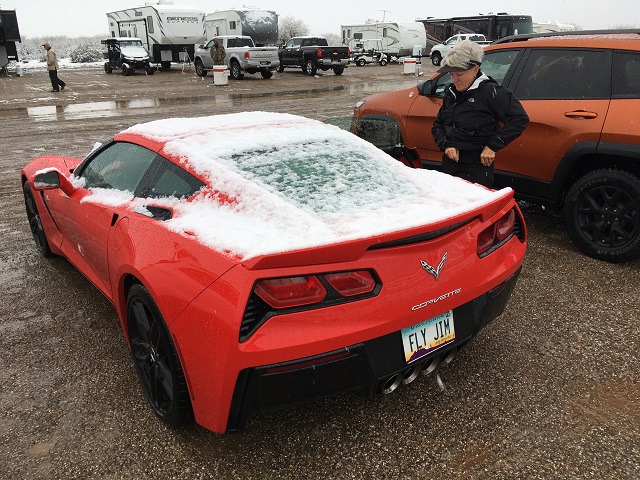 Photo credits: Jim Pollock
Southern Grand
March 11-17, 2019
Silver Dollar Shooters Club, Odessa, Florida
Newfoundland shooters John Tucker, Monty Petipas and Peter Tucker along with Nova Scotia's Barry Turner attended this year's Southern Grand at the Silver Dollar Shooter's Club in Odessa, Florida.
The Southern Grand is an annual trip for the Newfoundland trio and are normally escorted by Old Man Bailey who decided to skip this year's shoot. The Newfoundlanders were also joined by long time Maryland shooting buddy Jim Price. The guys met several years ago and make it a point to squad together and catch up during the Southern Grand.
The Southern Grand is also a regular stop on Barry's ATA shooting calendar. Barry reports that the weather was great and the shoot was very well managed. Attendance was excellent with 21 Canadian participants. Our group of APTA shooters took time out for a quick picture.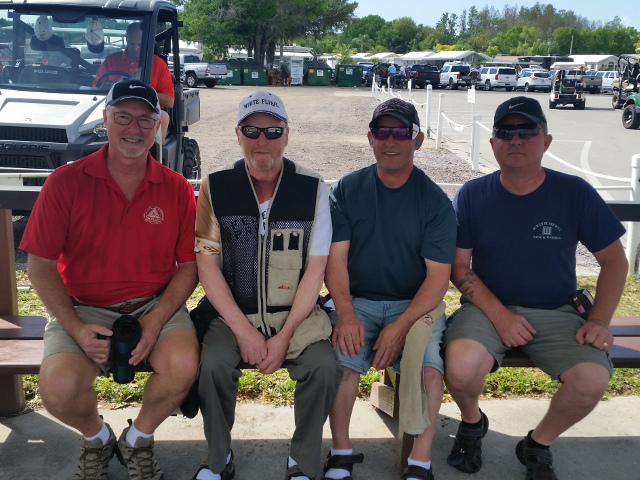 (left to right: Barry Turner, Peter Tucker, John Tucker and Monty Petipas)
Our shooters represented the Atlantic Provinces well and won several awards for their efforts. Well done fellas.
Peter got off to a great start winning D Class Runnerup in Monday's Preliminary Singles
Monty won D Class Runner up in Tuesday's Preliminary Doubles
Barry won the Veteran Runnerup trophy in Wednesday's Handicap event
Monty won D Class Runnerup in the Noah C Gouge Doubles.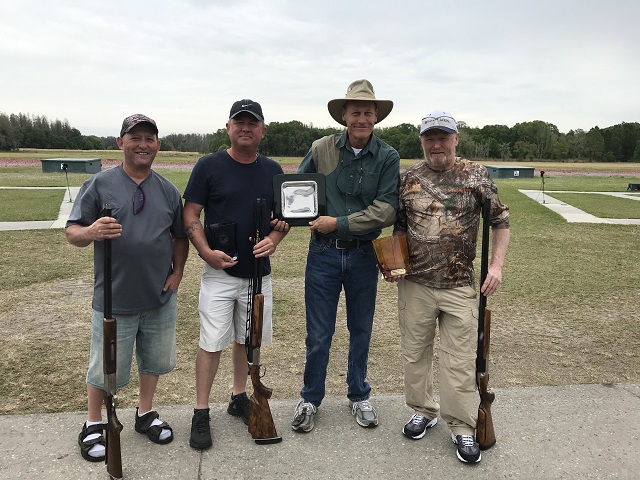 (left to right: John Tucker, Monty Petipas, Jim Price and Peter Tucker.)
A personal highlight for Peter was shooting in Peter Tucker Handicap - the event named after him for winning the 2018 Southern Grand Handicap. That's quite an honour that not many can claim. Well done Peter.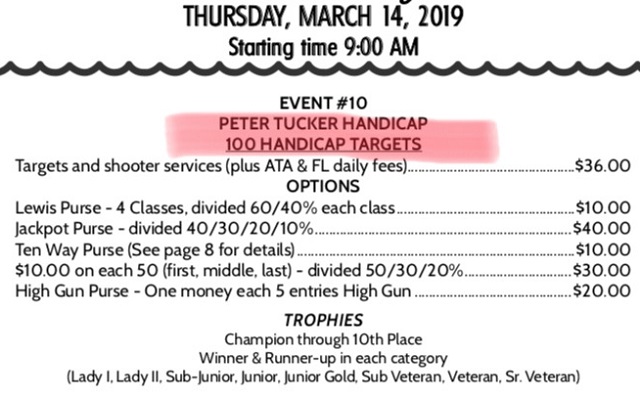 Barry also shared a couple of pictures of the Silver Dollar clubhouse and one of their 24 trap fields. The Silver Dollar is a beautiful club and a great place to shoot. And for those that like to golf, they offer 3 - 9 hole courses and a golf pro shop. And if you're looking to relocate they offer year round living also.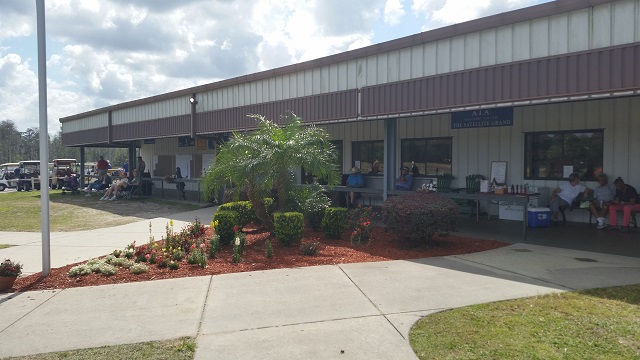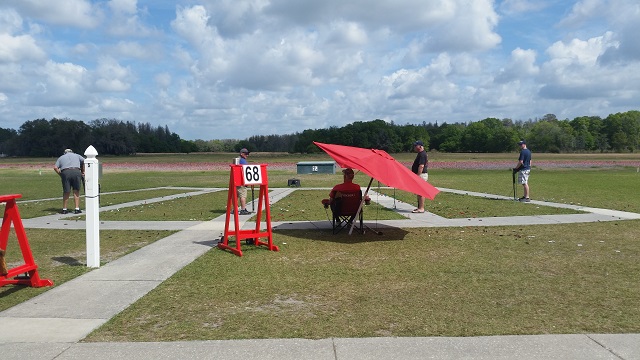 Great Lakes Grand
May 21 - 26, 2019
Michigan State Homegrounds, Lansing, Michigan
Report by: Barry Turner
The Great Lakes Grand is located at the Michigan State`s Home Grounds located about 15 miles south of Lansing, Michigan (80 miles west of Detroit). The facility features 40 trap fields on one line. The background is excellent and all of the fields are equal in terms of layout and target visibility. Located between 2 Great Lakes can lead to some turbulent weather. This year proved the point. Rain, high winds, cold, flat glary light and a warm afternoon or 2 confronted the 200 or so participants who shot the full 1300 target program from Tuesday through Sunday`s final handicap. Having shot this location 15 times, I knew that I should bring rain wear, shorts and golf shirts, a couple of heavy turtle necks, boots for muddy conditions, extra pants etc. By the time the shoot was over, I had occasion to use almost everything that I brought. This is one shoot where packing heavy pays off.
Crossing the border via air presents uncertainties and Customs delays are not uncommon. If you are flying and making a connection I like to allow at least 2 hours for the customs clearance process. This applies to both clearing US Customs going and clearing Canadian Customs returning. I am happy to report that I cleared US Customs in Montreal and Canadian Customs in Toronto on return without incident and without much delay.
The shoot was very well managed and target setting was right on the recommended ATA spec`s. Machine or voice mike breakdowns were handled quickly and trap help did a good job of keeping machines filled and getting the calls right. The shoot was a good one for me. I won High Vet in 2 handicaps with 94 in each from the 25 yd. line. I also won High Vet in the MTA Singles with 96 (20-30 mph winds depressed scores) and took Vet Runner up in the Championship Handicap with a 95.
Barry