APTA Abroad:
Throughout the Trap Shooting Season, many APTA shooters travel all over Canada and the U.S. to represent the Atlantic Provinces at many of the largest organized Trap Shoots.
Previous Years
2017 Canadian Trapshooting Championships
June 28 – July 2, 2017
Edmonton Gun Club, Edmonton, Alberta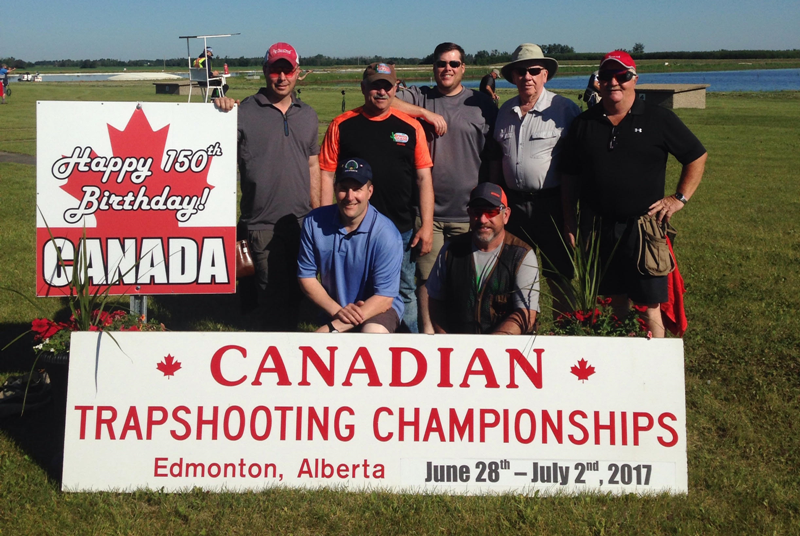 (left to right: Troy Coldwell, Doug Blades, Andrea Bassan, Ken d'Eon, Herbie Nickerson)
The 2017 Canadian Trapshooting Championships were held June 28 – July 2, 2017 at the Edmonton Gun Club in Edmonton, Alberta. This year's shoot was the largest Canadian Championships held in western Canada in recent years and saw shooters from coast to coast compete in Canada's national trapshooting championships. The host club with its beautiful twelve trap facility put off a fantastic shoot and treated shooters to great targets and a well run competition.

Atlantic Provinces (AP) shooters from NL - Paul Bailey, Andrea Bassan and Troy Coldwell and NS shooters Doug Blades, Ken d'Eon, Aubrey Spinney, Herbie Nickerson and Janaya Nickerson registered for the 1300 target championships. The AP was well represented with our shooters winning numerous awards, earning handicap yardage and shooting personal best scores.

In the Canadian National Provincial 5 Man Team Race, the AP Team of Coldwell, Bassan, Blades, Herbie Nickerson and Ken d'Eon placed 2nd overall finishing 8 targets behind Team Alberta. Well done boys.

AP Trophy Results:
Troy Coldwell
Preliminary Doubles Events 1,2,3 – AA Champion
Canadian Singles Championship - AA Open Champion
Champion of Champions - Champion
Canadian Doubles Championship Runner-up
High All Around - AA Class

Herbie Nickerson
Preliminary Doubles #1 – B Class Champion
High All Around B Class Champion
Canadian Handicap Championship – Sub Veteran Open Champion

Aubrey Spinney
Preliminary Doubles #2 – B Class Champion
Peter Tsementzis Doubles - B Class Champion
Earns ½ yard

Ken d'Eon
Preliminary Singles Championship – B Class Champion
Preliminary Handicap Champion
Earns 1 yard

Janaya Nickerson
Preliminary Double 1, 2, 3 – Lady 1 Champion
Patrick Lamont Singles – D Class Champion
Canadian Doubles Championship – Lady 1 Champion
Canadian Handicap Championship – Lady 1 Champion
High All Around – D Class Champion
Shoots first 50 straight in Singles Competition
Earns ½ yard

Doug Blades
Canadian Singles Championship – Champion (Open)

CTA Provincial Team Race – 2nd Place (Tie)
2017 Southern Grand:
March 13 - 20, 2017
Silver Dollar Trap Club - Odessa, Florida
Report By: Barry W. Turner
The Silver Dollar Club is home to The Dixie and Southern Satellite Grand tournaments. Located on the northern outskirts of Tampa Florida, The Silver Dollar is considered by most who travel the Satellite Grand circuit as the toughest venue to shoot.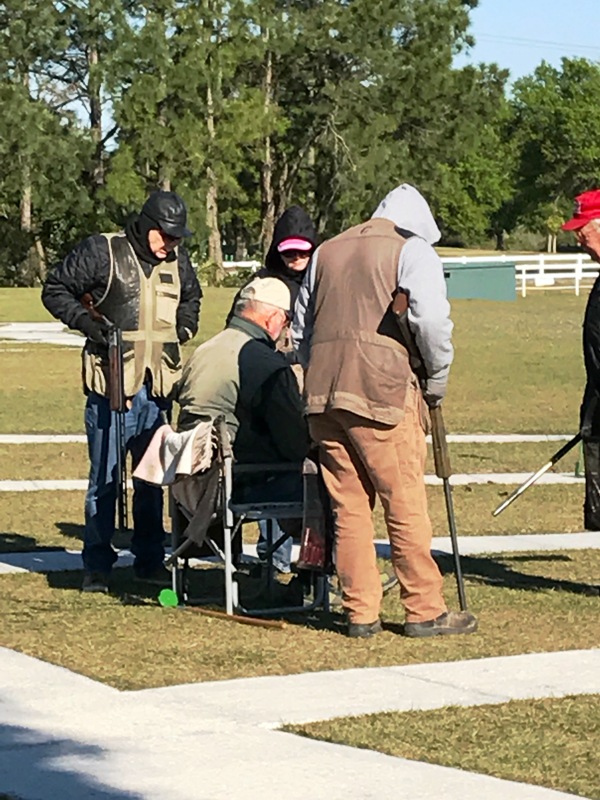 This year was no exception. Influenced by 20mph winds and unusually cold temperatures most of the week (5-10°C), shooters had their hands full deciding how many layers of clothing to wear and what gun hold to take on targets that unpredictably emerged from very flat to severely high. Some say target flight variability traces to old machines, careless target setting, worn out arms and the list goes on. I have shot there over 25 times and I can assure you that shoot management is highly attentive to both machinery upkeep and target setting. The answer lies in wind direction, there is none! There is something about the landscape, trees and buildings that promotes wind swirl or vortex winds. It's in your face one moment and the next you can feel it blowing against your back.
Four intrepid souls from the Atlantic Provinces dodged a major Nor'easter to attend the Southern. Monty Petipas, Peter and John Tucker from Newfoundland and Barry Turner from Nova Scotia. We kept reminding ourselves as the week unfolded that the weather was still better than back home…sort of?! Despite the challenging conditions, the shoot attendance was strong starting with about 250 shooters on Monday and growing to 600 by Saturday's singles. John Tucker got off to a solid start with 96 in Monday's preliminary singles and Peter found a high spot in Wednesday's Doubles winning D Class with a very good 91. Monty spent the week trying to figure the targets out and reaped the reward with a wonderful 90 in the final handicap championship. Yours truly bumbled along through the week with one minor accomplishment; that being I held all my 27 yard scores between 85 and 89…not bad given the targets.
The shoot was won by Harlan Campbell with and HOA of 952 and an HAA of 392 outstanding scores particularly given that Harlan's first three Handicap scores were 85, 82 and 87.
2017 Spring Grand
February 20 - 26, 2017
Tucson Trap and Skeet - Tucson, Arizona
Report By: Andrea Bassan
Nova Scotia father - daughter team Herbie and Janaya Nickerson took a break from winter and headed for Tucson Arizona to compete in the ATA Spring Grand tournament. Fresh off of a strong start to the 2017 target year and strong performances at the 2017 Atlantic Provinces Trapshooting Championships both Nickerson's were ready for competition.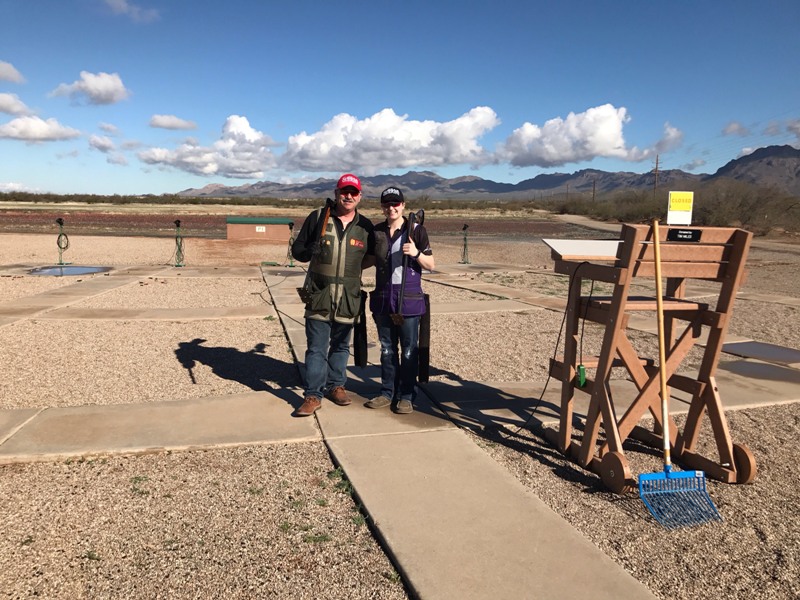 Janaya shot well and represented the Lady I Category and the Atlantic Provinces quite well at her first major US competition.
Herbie, the 2017 Atlantic Provinces Handicap Champion, continued his shooting success from the 2017 Atlantic Provinces Trapshooting Championships and posted impressive scores that won several awards:
Event 16: Preliminary Handicap. 94 / 100. 18- 21 ½ yard group Winner.
Event 19: Class Singles. 99/100. Class D Winner.
High Overall (HAA). 1007 / 1100. Class D Winner.
High All Around (HAA) 376 / 400. Class C Winner.
Congratulations Janaya and Herbie.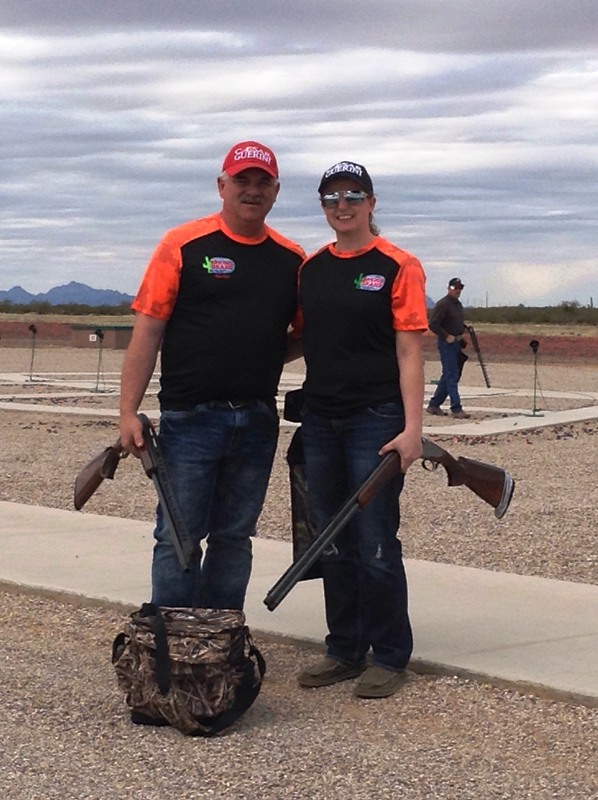 2017 Dixie Grand:
January 23 – 29, 2017
Silver Dollar Trap Club - Odessa, Florida
Report By: Andrea Bassan
Nova Scotia's Barry Turner started off the 2017 year in style attending the 2017 Dixie Grand and accomplishing a couple of memorable milestones in his shooting career.
During Event 4: Clay Floyd Singles, Barry shot a 99/100 to claim AA Class Winner. In Event 5: Preliminary Handicap, Barry shot a 94/100 from the 27 yard line to tie for runner up – 4th place and claimed 3rd place after the shoot offs were completed. During Event 7: Singles Class Championship, Barry shot a perfect 100/100 to earn AA Class Champion and advancement to AAA Singles Class for the remainder of the tournament. In Event 8: Preliminary Handicap Barry placed 9th overall and during Event 14 – Dixie Grand Singles Championship Barry's 198/200 and performance in the shootoff was strong enough to take Class AAA Winner.
During Event 7 Barry also shot (and broke) his 50,000th ATA Registered Singles target.
Congratulations Barry on your shooting and best of luck for the remainder of the 2017 target year.