APTA Abroad:
Throughout the Trap Shooting Season, many APTA shooters travel all over Canada and the U.S. to represent the Atlantic Provinces at many of the largest organized Trap Shoots.
Previous Years
2015 Southern Grand:
March 16 - 22, 2015
Silver Dollar Trap, Odessa, Florida
Report by: Andrea Bassan
While most of the Atlantic Provinces were dealing with storm after storm and buried in snow, the "Fantastic Four" made their annual pilgrimage to Odessa Florida for sun, good weather, good food and a few rounds of Trap. Johnny Tucker, Monty Petipas, Paul "Old Man" Bailey and Peter Tucker shook off the winter blues like pros and were soon back in form, shooting respectable scores and representing the Atlantic Provinces and the St. John's Rod & Gun Club with pride.
Not everyone was fortunate enough to walk away from the shoot with Hardware but this year it was Monty's turn. His shooting earned him two trophies including the Preliminary Doubles – D Class Runner Up and High All Around D Class Champion.
Boys Night Out
Congratulations Monty, and good shooting to the "Fantastic Four" headed up by OMB himself.
2015 Spring Grand:
February 23 - March 1, 2015
Tucson Trap and Skeet, Tucson, Arizona
Report by: Doug Blades
Trip was amazing but could have been better with a good gang of Newfs in the mix! Unfortunately no trophies were brought back, however we all won some American coin on the options. The facility was top notch, there was a large clubhouse with Pro Shop and restaurant/bar, and the shoot was very well organized - everything ran like clockwork. The trap line was all one straight line, 50 identical fields, flat background with mountains off in the distance. This was my first time at a shoot with a vendors row and I thought it was impressive. Vendors Row consisted of about 18-20 booths, some handmade leather products, Decot HY-WYD lenses, Wenig stocks, Caesar Guerini (got their "pit stop" done), 2 or 3 clothing and shooting accessory shops, custom earplugs, a massage booth, a couple of gun cleaning supply shops, reloading components, 2 large firearms dealers, and a few booths selling jewelry for all the men about to go home to the doghouse!

We shot eight events from Wednesday February 25th to Sunday March 1st. 300 doubles, 300 singles and 300 handicap. The weather was great (anything was better than snow and freezing here in NS), sunny and low 20's Celsius, most days it was a little windy, usually gusting from the SW making the targets drop a bit. The size of the shoot was unbelievable, I believe over 900 shooters registered with the largest event having 793 entries. We got to watch a shoot-off under the lights Saturday night, and then watched Harlan Campbell Jr go head to head with Matthew Barthelow for HOA, tied at 980 out of 1100. They shot at 20 singles, 10 handicap and 5 pair doubles, and had to do that twice for Harlan to win by 1 (Barthelow missed one handicap bird). One great aspect was that everybody was friendly. Some of the "big dogs" stopped and talked with us, all of the staff was very friendly, we met up with lots of fellow Canadian shooters. We must have stuck out like a sore thumb because everybody we talked to asked if we were Canadian!

I would not hesitate for a second at a chance to go back to a Spring Grand, with a little more practice during our "off season" and some of those trophies could find their way back to the Maritimes.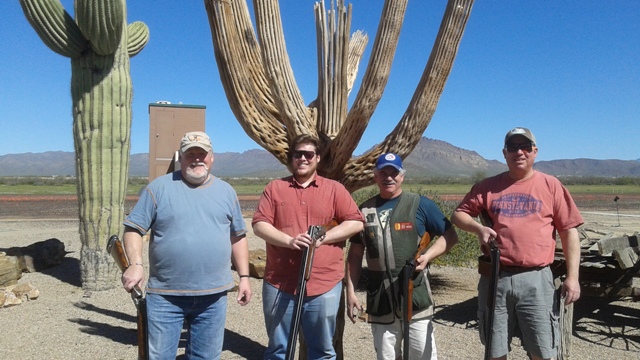 Pictured left to right: Brian Blades, Doug Blades, Herb Nickerson, John Nichols