Previous Years
2017 Club Shoots
2017 NL Provincial Trapshooting Championships
The 2017 Newfoundland and Labrador Trapshooting Championships were held at the St. John's Rod and Gun Club July 15-16, 2017. Shooters from across the province participated in the 400 target Amateur Trapshooting Association sanctioned event and competed for the provincial Singles, Doubles and Handicap titles.
Shoot Highlights:

- Andrea Bassan and Troy Coldwell tied for the NF Sportsman Singles Championships with scores of 195/200.
- Bassan edges Coldwell in the shootoff with a score of 25/25 to Coldwell's 24/25.
- Bassan, Coldwell and Robert Mercer competed in the Dave Anstey Champion of Champions event. Bassan and Coldwell agree to be co-Champions after both tallied 49/50 in the 2 round event of previous provincial Singles Champions.
- Nina Chandler shoots her first 25 straight and also claims the NL Lady Singles crown. Shoots a personal best score of 173/200 in ATA registered Singles shooting.
- Paul "OMB" Bailey shoots a personal best (186/200) at the age of 84 to claim the NL Veteran Trophy over fellow veteran shooters Derm Molloy and Robert Mercer.
- The St. John's Rod and Gun Club 5-Man Team of Bassan, Coldwell, Paul Bailey and the 2 Tuckers brothers – Peter and Johnny claim the 2017 5-Man Team Singles trophy.
- Bassan and Coldwell claim the Singles and Doubles 2 Man Team events.
- Coldwell claims the DU Doubles with a pair of 47/50s for a score of 94/100.
- Peter Tucker and Ray Snow tie for top score in the Pat Wall Handicap with scores of 89/100. Tucker runs a perfect round from the 20 yard line to claim top honors over Snow's 21/25.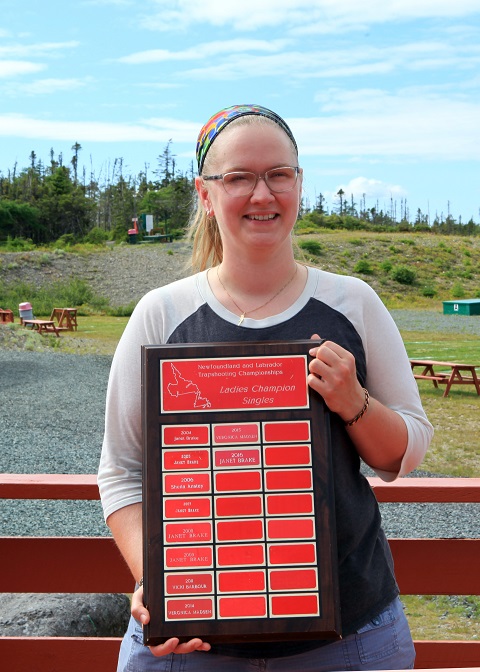 Nina Chandler: Lady Champion
Photo Credit: Kevin Healey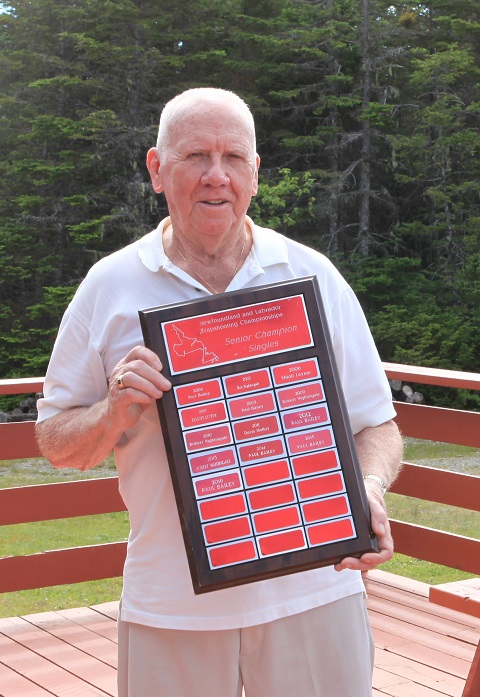 Paul "OMB" Bailey: Senior Champion.
Photo Credit: Kevin Healey
May 13, 2017 Petitcodiac Sportsman's Club Invitational Trap Shoot
Report By: Andrea Bassan
The Petitcodiac Sportsman's Club hosted their first ATA Registered Shoot on Saturday May 13, 2017. PSC Shotgun Committee Chair Ron Whitehead reports that the shoot went well with a total of 20 shooters being treated to great weather and great food. The field of competitors included 15 ATA shooters and 5 non-ATA shooters with awards determined using the Lewis Class System. Whitehead acknowledged the participation of shooters from the Fredericton Trap & Skeet Club and the Moncton Gun Club and thanks them for making the shoot a success.
Whitehead has been a driving force behind trapshooting at the Petitcodiac Sportsman's Club and feels that trapshooting in New Brunswick is making a comeback. Shoot results:
| | |
| --- | --- |
| Shooter | Award |
| Brian Pettipas | Champion |
| Ron Whitehead | A Class Champion |
| Jack Nicolle | A Class RU |
| Dan Boudreau | B Class Champion |
| Dave Dixon | B Class RU |
| Tom Nowlan | C Class Champion |
| Trevor Gracie | C Class RU |
| Larry Kinden | D Class Champion |
| Gerrit van Raalte | D Class RU |