Previous Years
2020 Club League - Shoot Results - News
Petitcodiac Sportsman's Club Winter League - Final Results
Report and Photos by Larry Kinden
Our winter league end June 10, 2020 and was branded the "Covid Challenge Trap League" by Ron Whitehead and that appears on the medals. Very appropriate given the times we are in.
The 2020 winners are as follows: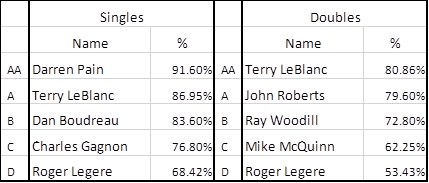 Terry LeBlanc also won the High Overall with 83.90%. The complete results are in the chart below.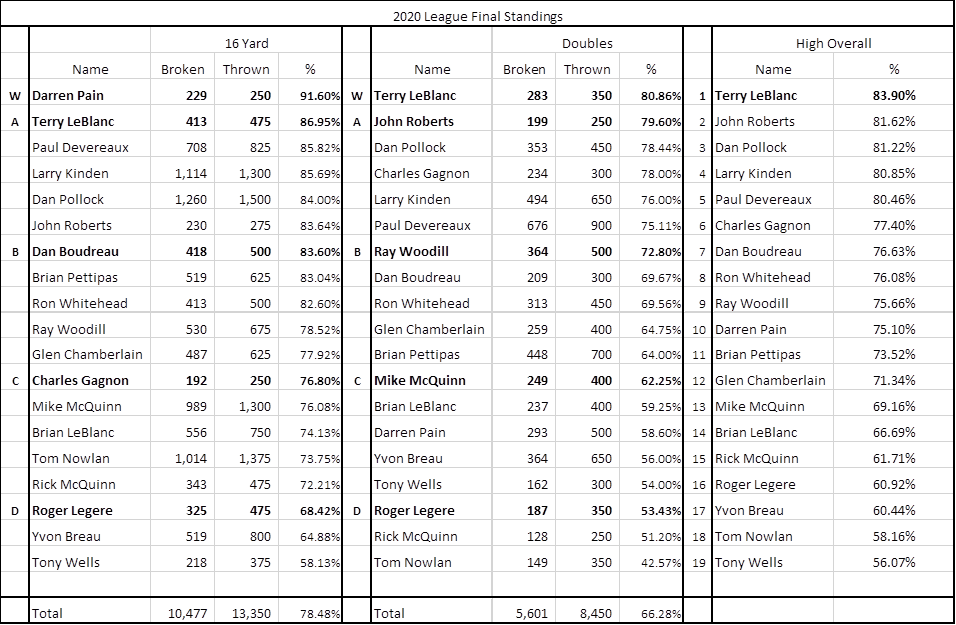 Ron Whitehead announced that he is retiring from the sport after his final rounds of the 2020 PSC Winter League. Those present presented him with a club shirt and his rounds were of no charge for the day.
Ron was very instrumental in getting trap shooting going at the PSC and was a mentor to a lot of us. He may be around from time to time to keep us in line. He has agreed to be a resource to us going forward but his presence at the shoots will be missed. Especially by me as his adopted son. I gave him a big hug and a kiss today, which, I think he enjoyed a little too much.
Take care Ron and to all of you who participated, thank you.
Larry Kinden
Nova Scotia Trapshooting Championships
Report and Results by Doug Blades
The Nova Scotia Trapshooting Championships were held August 1 & 2, 2020 at the Highland Gun Club near Yarmouth, Nova Scotia. 21 shooters registered for the 2 day, 400 target tournament. The weather was sunny and hot, 30+ degrees both days. The 15-20 km's cross wind for the Sunday Doubles made things sporty.
Shoot Highlights
Singles Championship
High Singles / A Singles was settled by shootoff, Doug Blades 24 - Jimmy Hannah 20.
D Class Singles settled by shootoff, Gary Nickerson 22-22-23 vs Steve d'Entremont 22-22-16.
Doubles Championship
B Class settled by shootoff, Herbie Nickerson 19-20 vs Brian Macleod 19-19.
Handicap Championship
1st and 2nd settled by coin toss, Lloyd Litwin over Doug Blades.
Half yard earned by both Lloyd (25 - 25.5) and Doug (25.5 - 26).
Handicap 3rd and 4th settled by shootoff, Ken d'Eon 22 , Brian Macleod 20-23 , Brian Blades 20-22.