Previous Years
2013 Atlantic Provinces Trapshooting Championships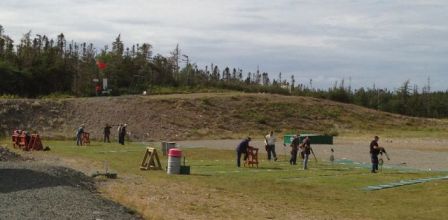 Photo Courtesy of Mike Smith
August 30 - September 1, 2013
St. John's Rod & Gun Club in Holyrood, Newfoundland.
Shoot Highlights:
The Labour Day Holiday weekend arrived and brought with it torrential rain and very strong wind for the Atlantics Trap Shoot. Undiscouraged by the weather, 50 shooters from Nova Scotia, New Brunswick, Newfoundland, Ontario, and the United States headed to the trap fields in their assigned squads and enjoyed some very challenging targets! The event began with meet and greet at the club Thursday afternoon, Friday was the preliminary shoot and began with 100 singles in the morning, followed by 100 handicap and 100 doubles in the afternoon. The shoot continued Saturday, still in the rain, with the Singles Championship, a total of 200 targets. Saturday evening our club hosted the Shooter's Social Banquet at the Elk's Club on Carpasian Road in St. John's. We enjoyed a fantastic steak dinner which was followed by an awards presentation for the preliminary day shoot, and concluded with a Calcutta Auction for Sunday's Handicap Championship. The weather finally broke for the final day of competition on Sunday as we shot under sunny skies and strong winds. The day began with the doubles championship and continued with the Handicap Championship to conclude the tournament. The awards presentation and the annual APTA annual general meeting brought the event to a close around supper time.