Previous Years
2022 Atlantic Provinces ATA Provincial Shoot
St. John's Rod and Gun Club, Holyrood, Newfoundland and Labrador
September 1 - 4, 2022
Report by: Andrea Bassan
Photo credits: Andrea Bassan, Denis Brule, Steve d'Entremont, Doug Blades and others.
The St. John's Rod and Gun Club located 30 km west of the capital city St. John's (near the town of Holyrood, Newfoundland and Labrador) held the 2022 Atlantic Provinces ATA Provincial Shoot September 1-4. 2022. The club was founded in 1959 and offers trap. sporting clays, rifle, pistol and archery to it's 1000 plus members. The club first hosted an Atlantic Provinces shoot in 1979.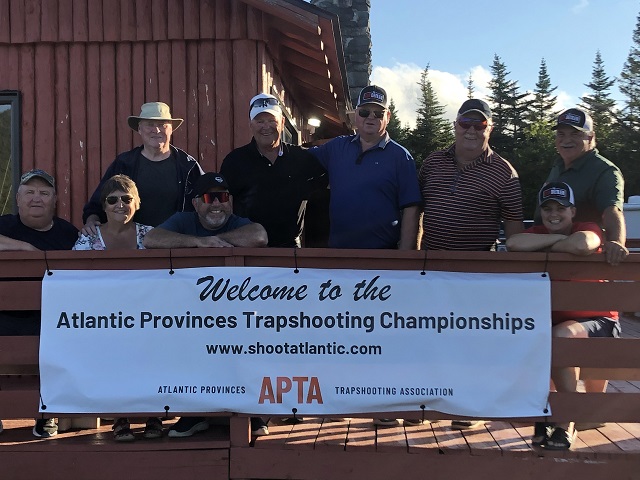 In 2019, the St. John's Rod and Gun Club started a multi-year trap improvement project. The club has four well equipped trapfields, with Pat Traps and voice release systems on all fields, but there were some deficiencies and areas that could be improved upon. Major work items included rebuilding two traphouses, replacing the cracked, uneven and painted green concrete walkways on all trapfields, completing much needed landscaping work and new shooter benches. The project was partially funded by the ATA's Gun Club Fund – an ATA funding program that awards grants to gun clubs through an application process for projects like the one the St. John's Rod and Gun Club undertook. The club's trapshooters provided the manpower and volunteered countless hours to complete the project. The ambitious project was completed in July and the 2022 Atlantic Provinces ATA Provincial Shoot would be the first large shoot since the completion of the project.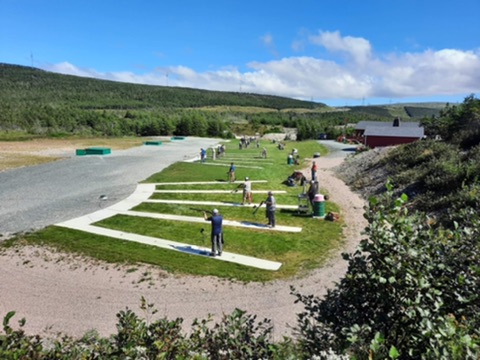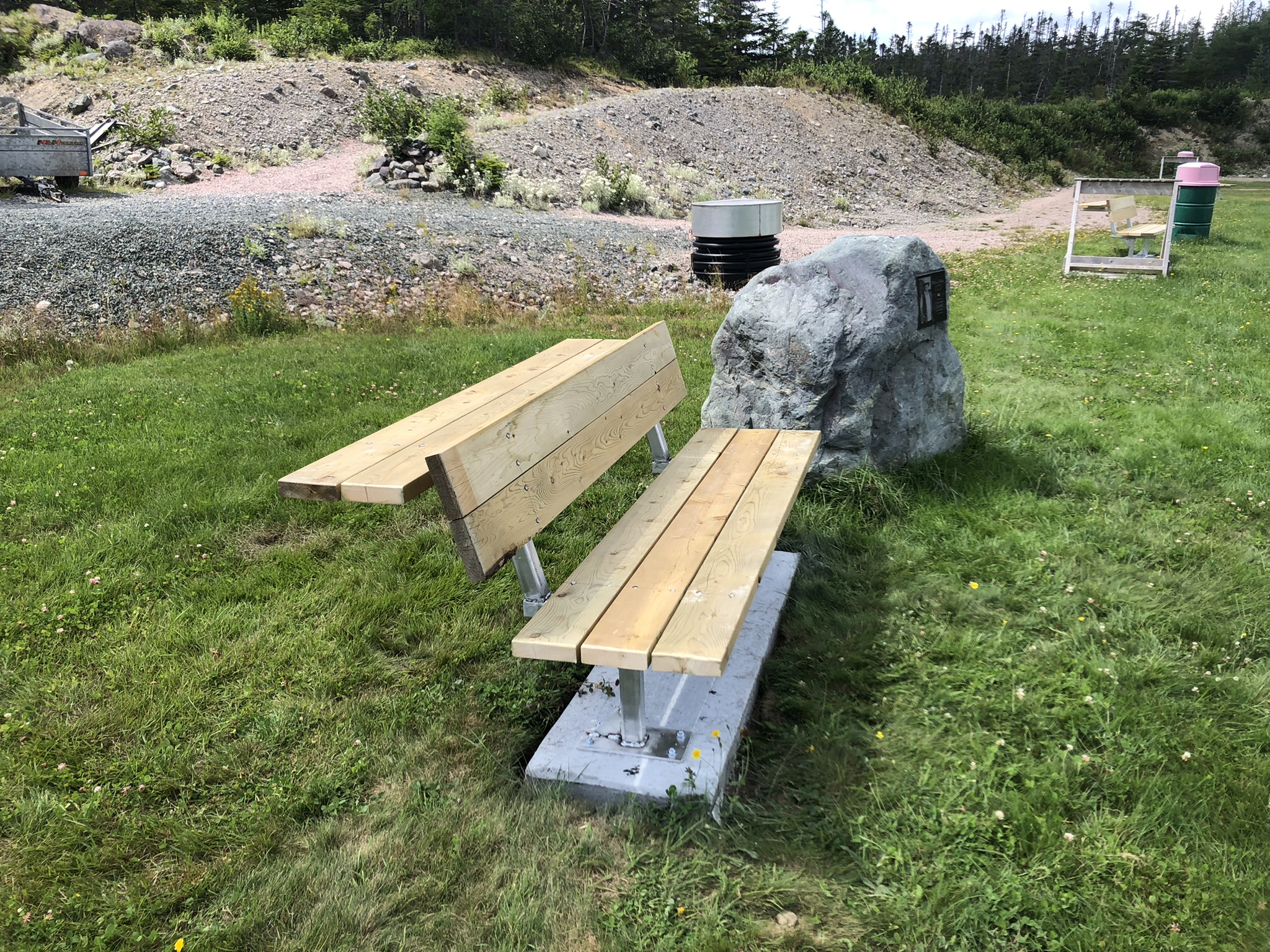 Maintaining well-kept grounds at the St. John's Rod and Gun Club has become a big chore for the volunteer based club and the club's push mower isn't able to keep up with the expanding area of groomed grounds. The Atlantic Provinces Trapshooting Association (APTA) held a raffle during the shoot with proceeds going to help the club purchase a ride on mower.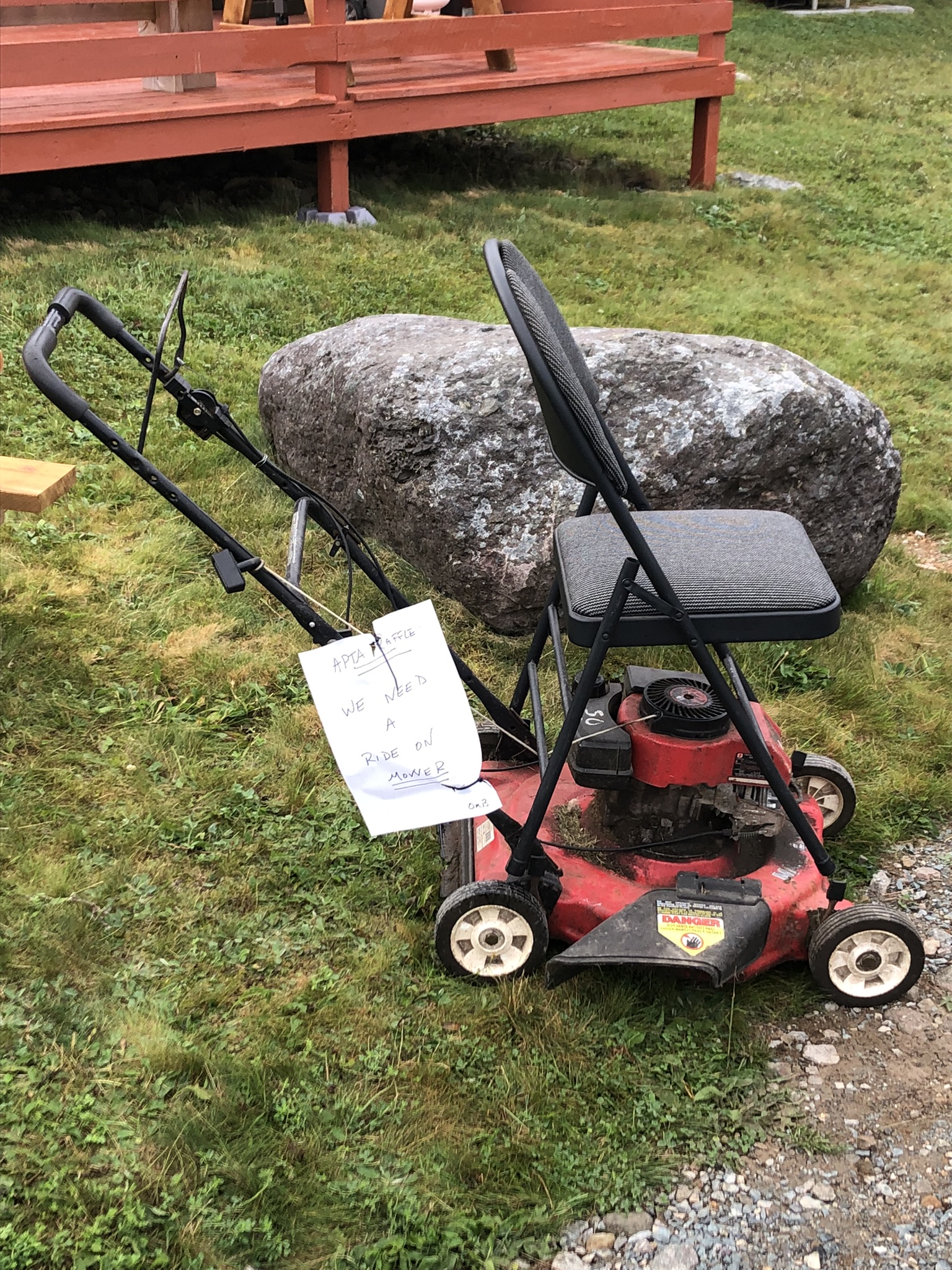 The raffle was a huge success thanks to the generosity of shoot sponsors and shooters in attendance. Visiting Ontario shooter Bob Morphy won the top prize, a Fierce 12 gauge semi-auto, and donated it back to the APTA to raise even more funds. The APTA decided to have some fun with this second chance at the gun and sold tickets on a wobble trap five target shoot-off. Five tickets would be drawn and anyone having more than one ticket drawn could pick another shooter to shoot on their behalf. Reynold d'Entremont had two tickets drawn and chose Troy Coldwell as his shooter. Coldwell was the only shooter to go straight and won the gun for Reynold.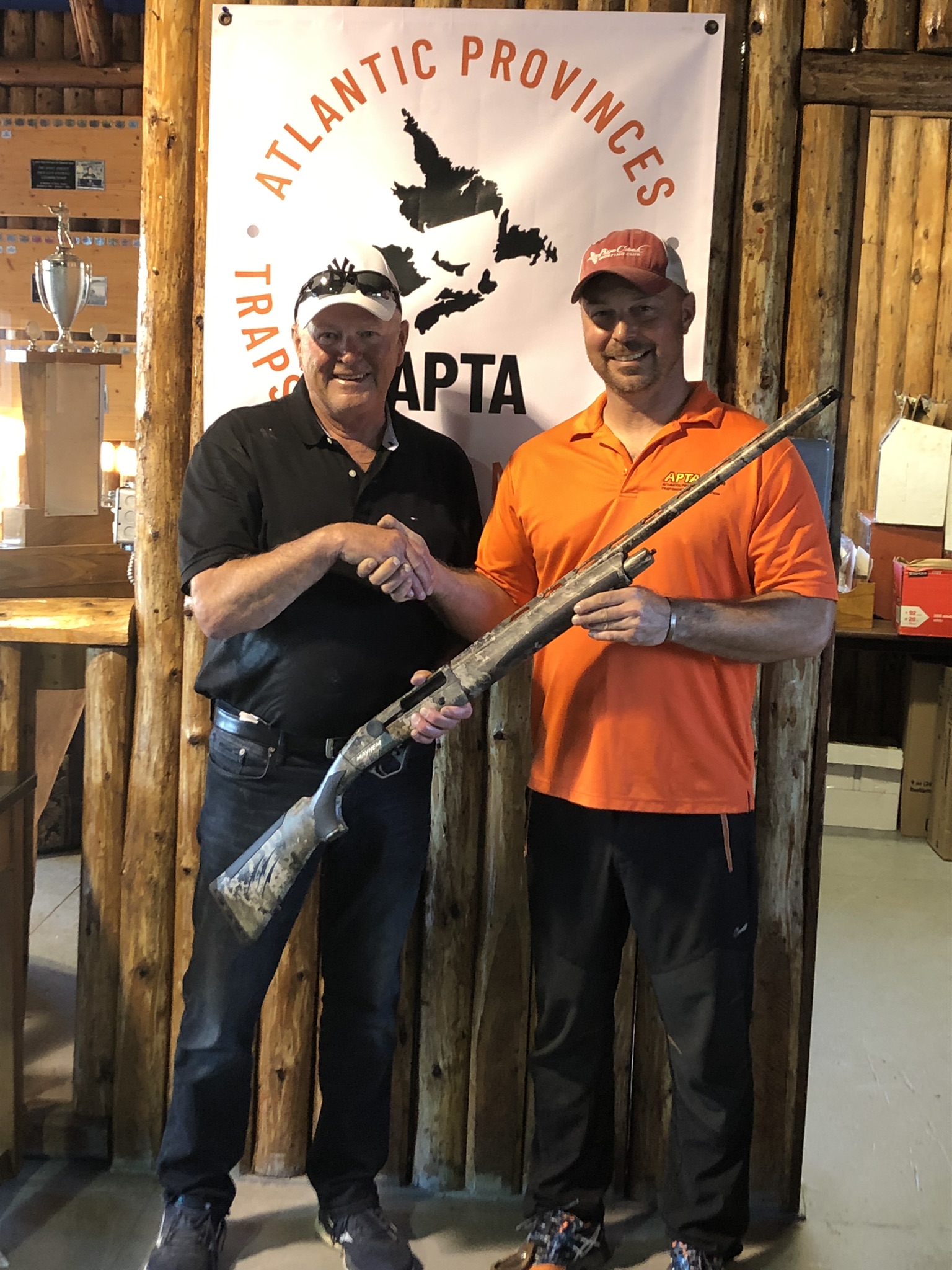 Troy Coldwell (right) presents Reynold (left) with the gun he just won for him
The raffle raised a total of $3500 and club Trap Chairman Andrea Bassan thanked everyone for supporting the raffle. Shortly after the shoot, the St. John's Rod and Gun Club ordered a Husqvarna zero turn ride on mower.
A Shooter's Social and Banquet was held at the club Saturday evening. It was well attended and provided shooters with a chance to socialize and catch up. The APTA also used this as an opportunity to present awards for the Preliminary Day events and Singles Championship.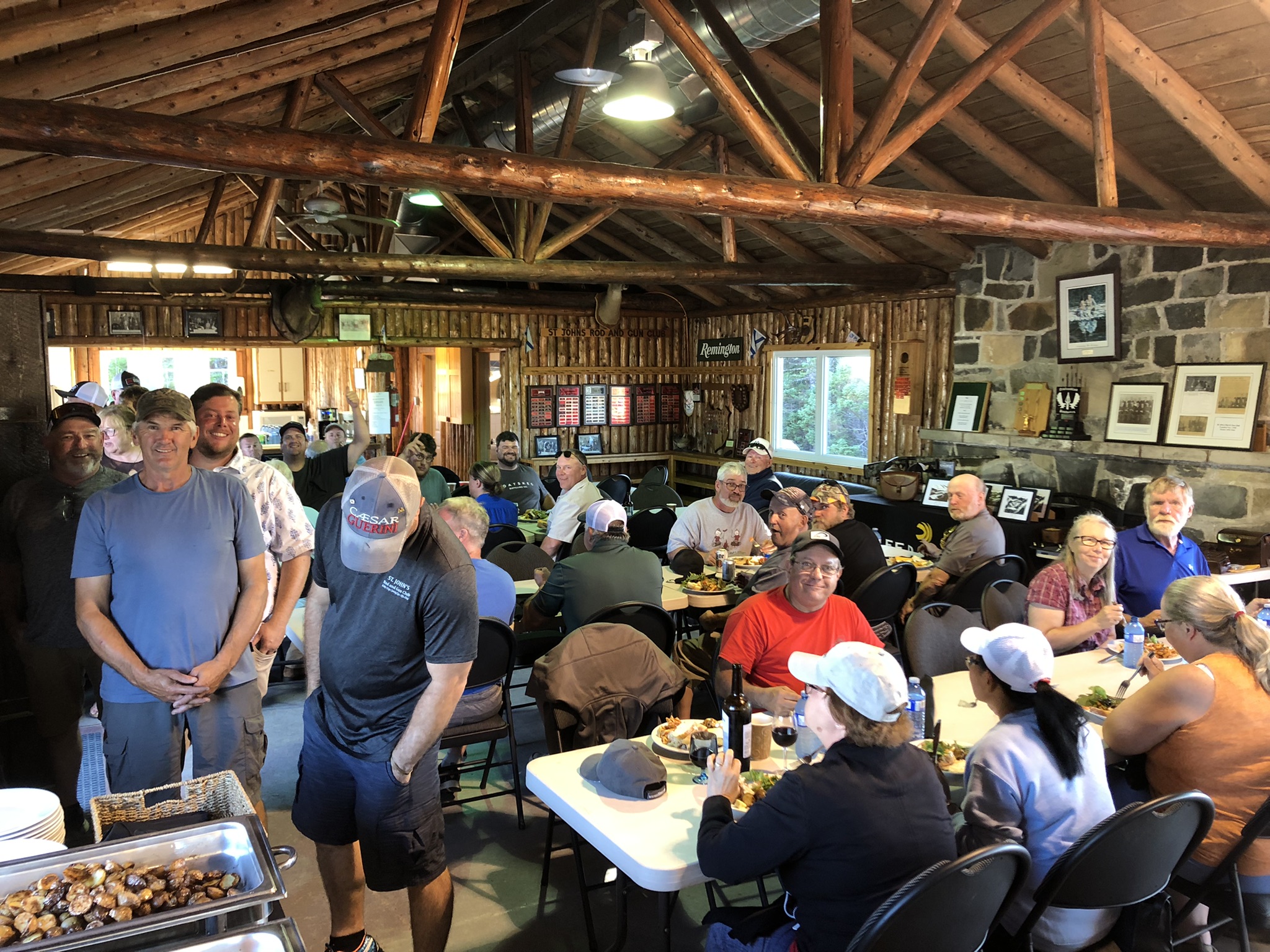 APTA members were given an update of what's happening in the world of trapshooting during the annual general meeting. At the meeting, the APTA executive were voted in again for another term. APTA board members include:
Andrea Bassan - President, ATA Delegate and Canadian Trapshooting Association (CTA) Delegate
Jamie Leblanc - ATA Alternate Delegate
Janaya Nickerson - Secretary
Troy Coldwell - Vice President
Doug Blades - Treasurer
To kick off the shoot, the club threw a Big 50 Shoot on Thursday, September 1. The registration desk was also open and most shooters took advantage of both. Club members John Tucker and Roger Butler prepared a fish stew for everyone in attendance and a bright blue sky provided great shooting conditions. Ronald Tilley had the high Handicap score and earned a ½ yard for his efforts.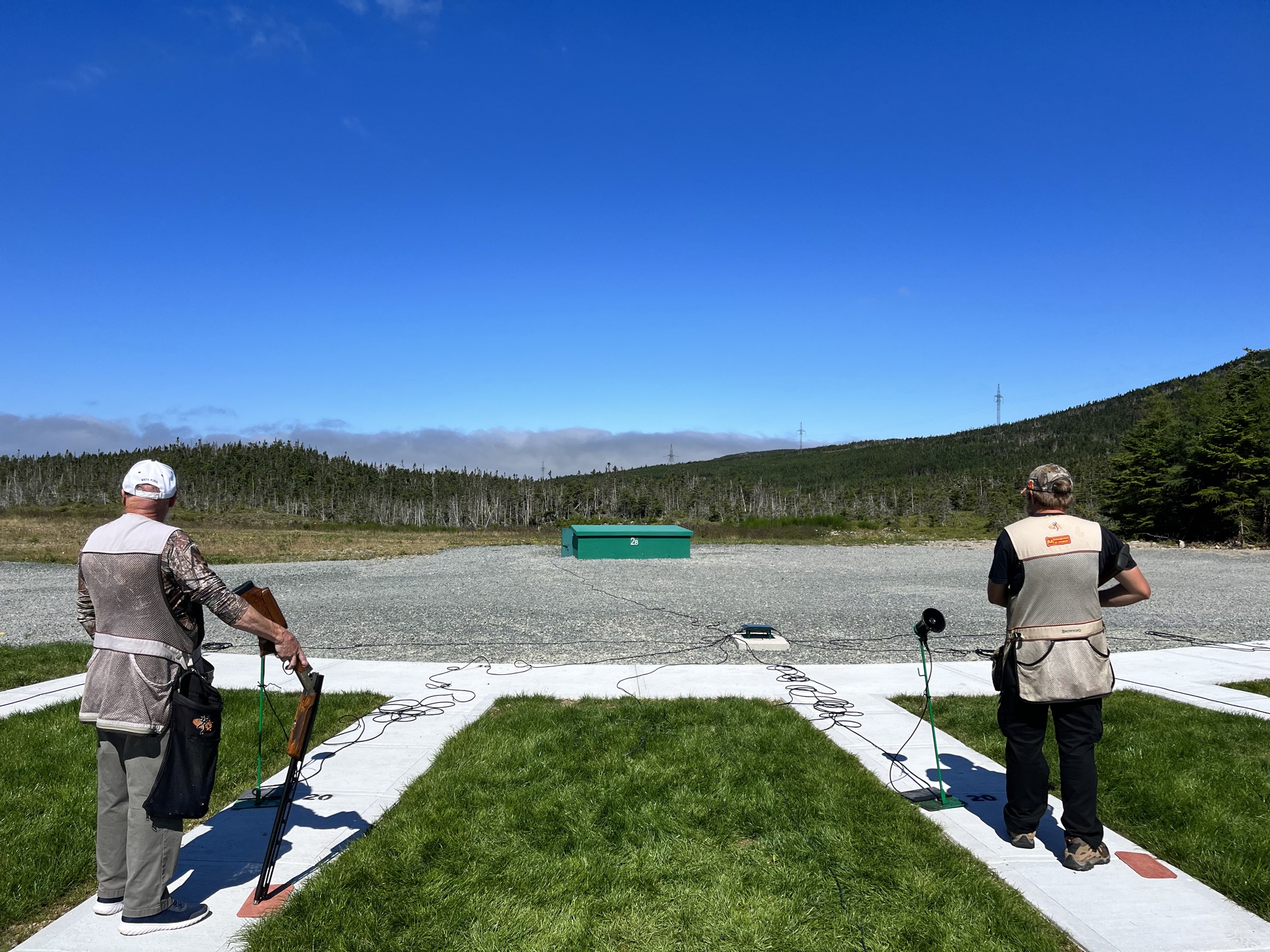 The weather forecast looked terrible for Friday's Preliminary Day Shoot and shooters were bracing for a wet and windy day. Fortunately though, the heavy rain stopped just before 8 AM. A northerly wind kept shooters on their toes but overall it was a decent day for shooting. By midday, the skies cleared and blue skies returned.
Five shooters tied with 98s in the preliminary APTA Singles event. Ontario's Bob Morphy won Champion shooting a perfect round in the carry-over. Troy Coldwell and Reynold d'Entremont won AA and A Class respectively. Clyde d'Entremont won B Class with a carry-over win against Quebec's Danny Boulet and Rejean d'Entremont. Janaya Nickerson took C Class and Larry Kinden shot his first 50 straight and a personal best score to win D Class.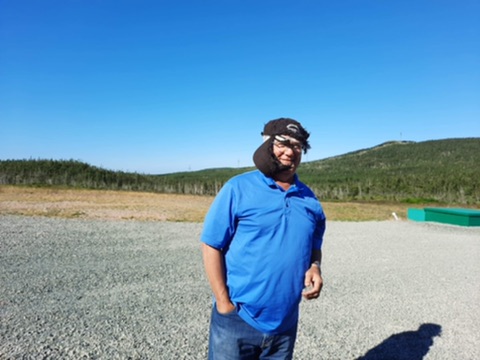 Larry Kinden with his freshly shot hat
Alex Nickerson and Danny Boulet shot near perfect scores tieing with 99's in the preliminary APTA Handicap event. Nickerson also shot his first 75 straight and a personal best score. Their shoot-off went two rounds with Nickerson (23/25) winning over Boulet (23/24). Both shooters earn one yard for their shooting.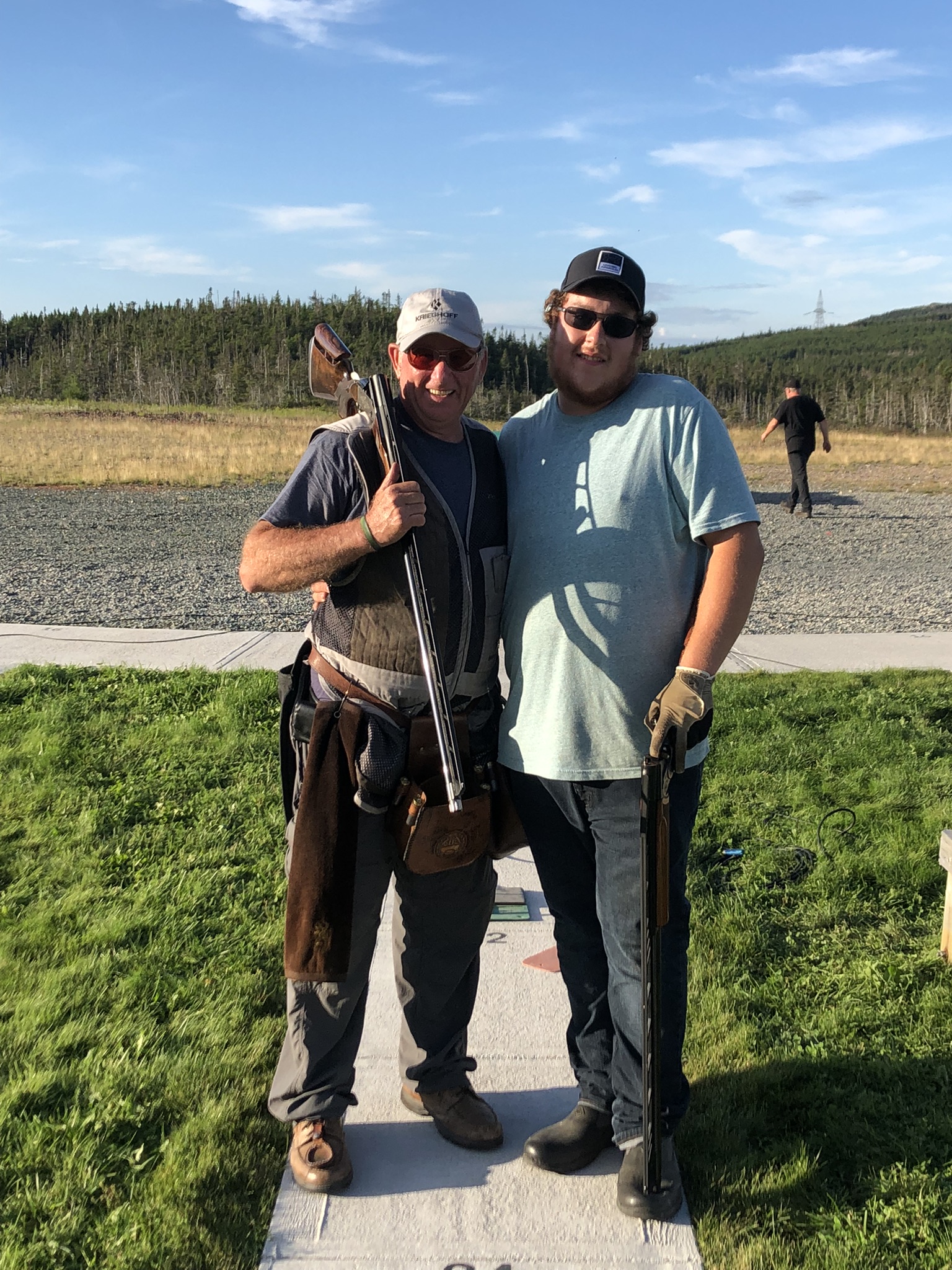 Danny Boulet (left) and Alex Nickerson (right)
Joe Rosa and Davis Atwood shoot 92s and win 3rd and 4th place respectively with Rosa beating Atwood 23-21 in their shoot-off . Gary Nickerson and Ronald Tilley tie for 5th and 6th with 91s. Gary outshoots Ronald 24-20 to take 5th place while Ronald takes 6th place.
Troy Coldwell took the Champion award in the Preliminary APTA Doubles with a 98. Joe Rosa won AA with a 89, Bob Morphy takes A Class with an 88, Herbie Nickerson won B Class with a 91, Rejean d'Entremont won C Class in a carry-over win against Shawn d'Entremont and Clyde d'Entremont won D Class with his 83.
Saturday was another great weather day for shooting. Cloud and overcast skies in the morning and bright blue skies by midday. Light winds also helped the target setting committee set great targets for the 2022 Atlantic Provinces Singles Championship.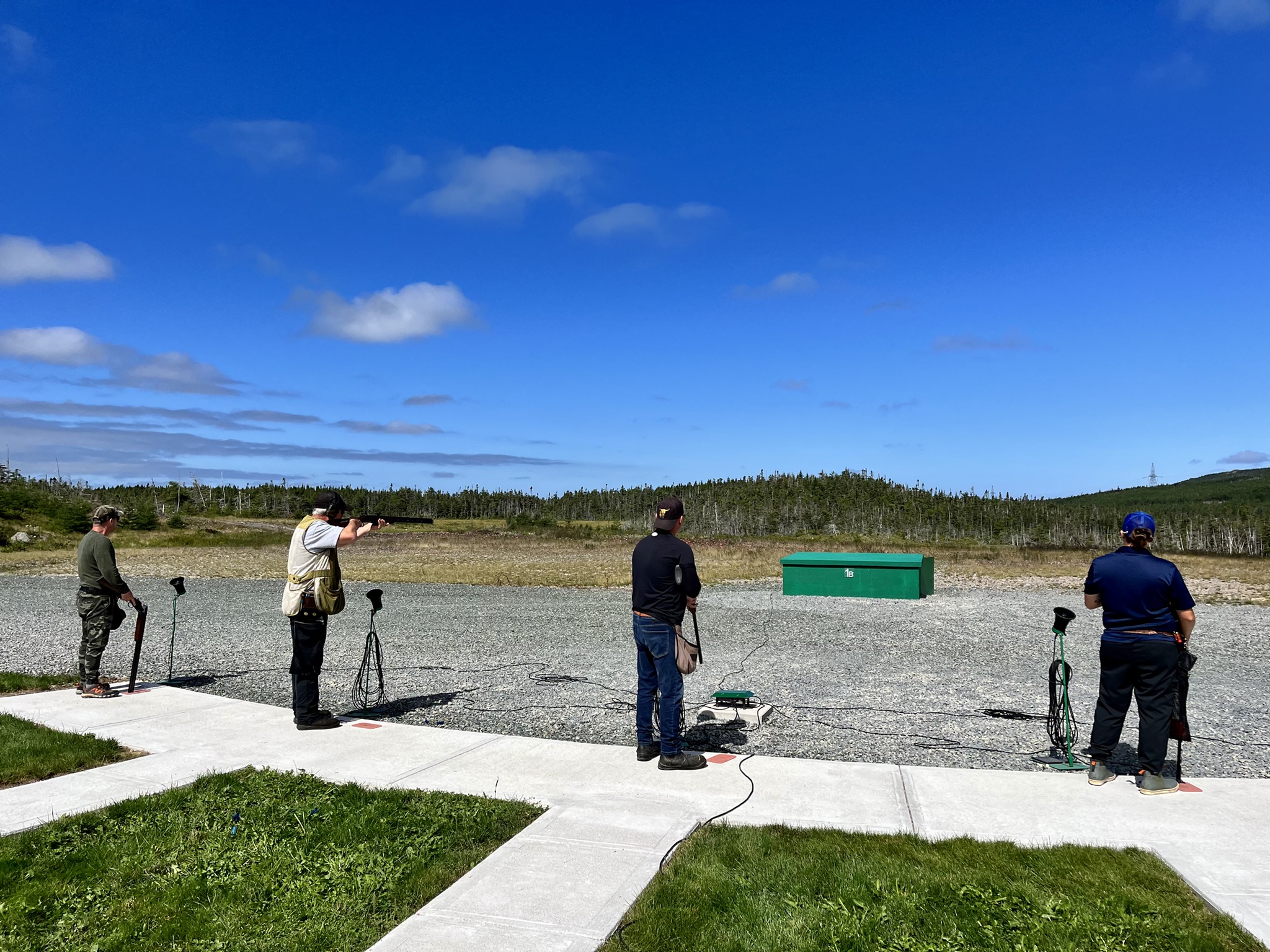 Reynold d'Entremont shot a 194 to win his 2nd Atlantic Provinces Singles Championship.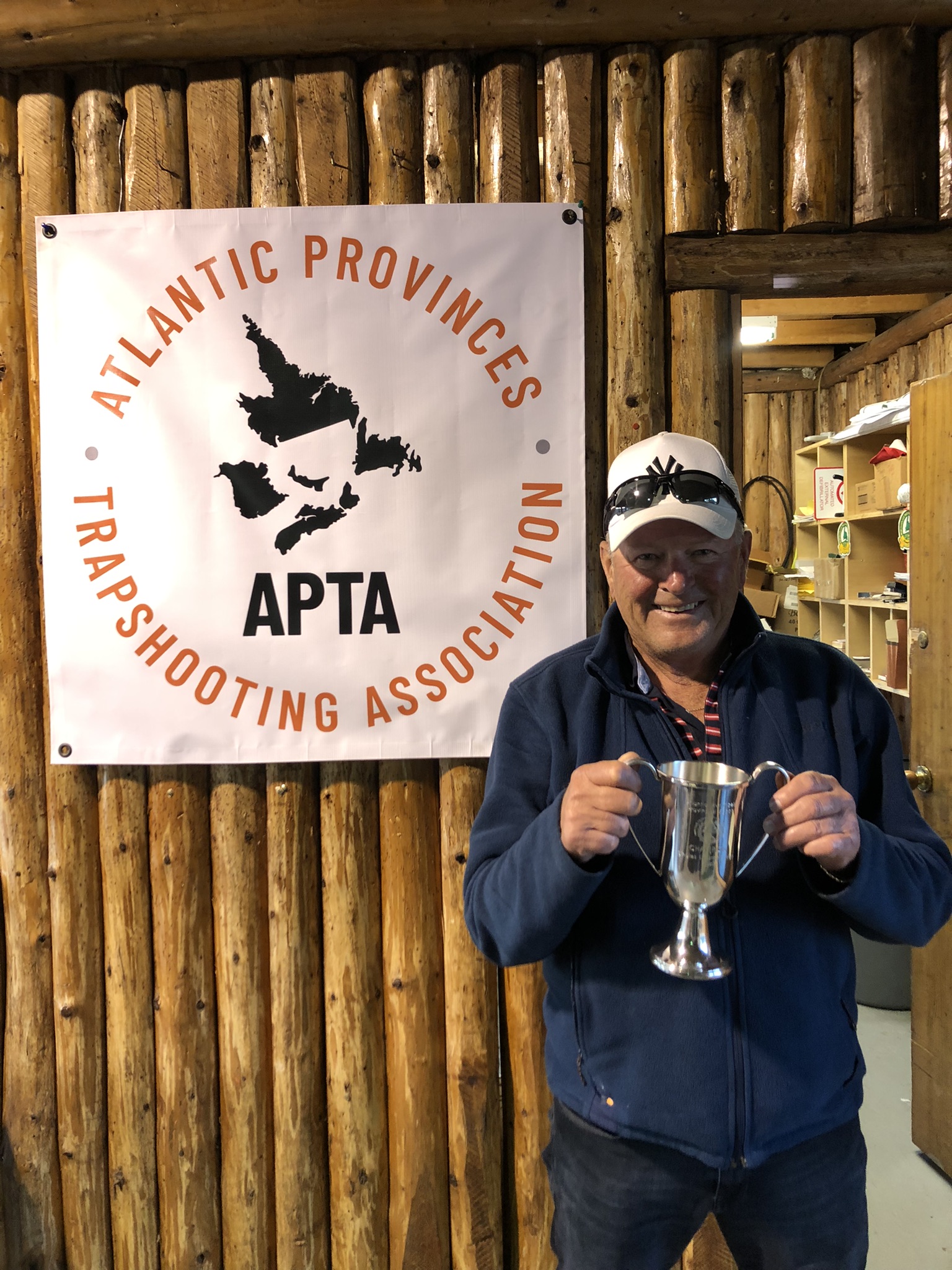 Joe Rosa was just one target behind and won his 3rd Singles Runner-up award with a 193. Ontario's Bob Morphy won Open Champion with a 194.
In the Atlantic Provinces categories, Janaya Nickerson won Lady I, Aubrey Spinney won Sub Veteran and Lloyd Litwin won the Veteran award. Thomas (Tom) McGarry won Senior Veteran and Maddox Benoit won Junior. Tom has been an ATA member since 1986 and introduced his grandson Maddox Benoit to trap in 2020. Both are regulars at the St. John's Rod and Gun Club.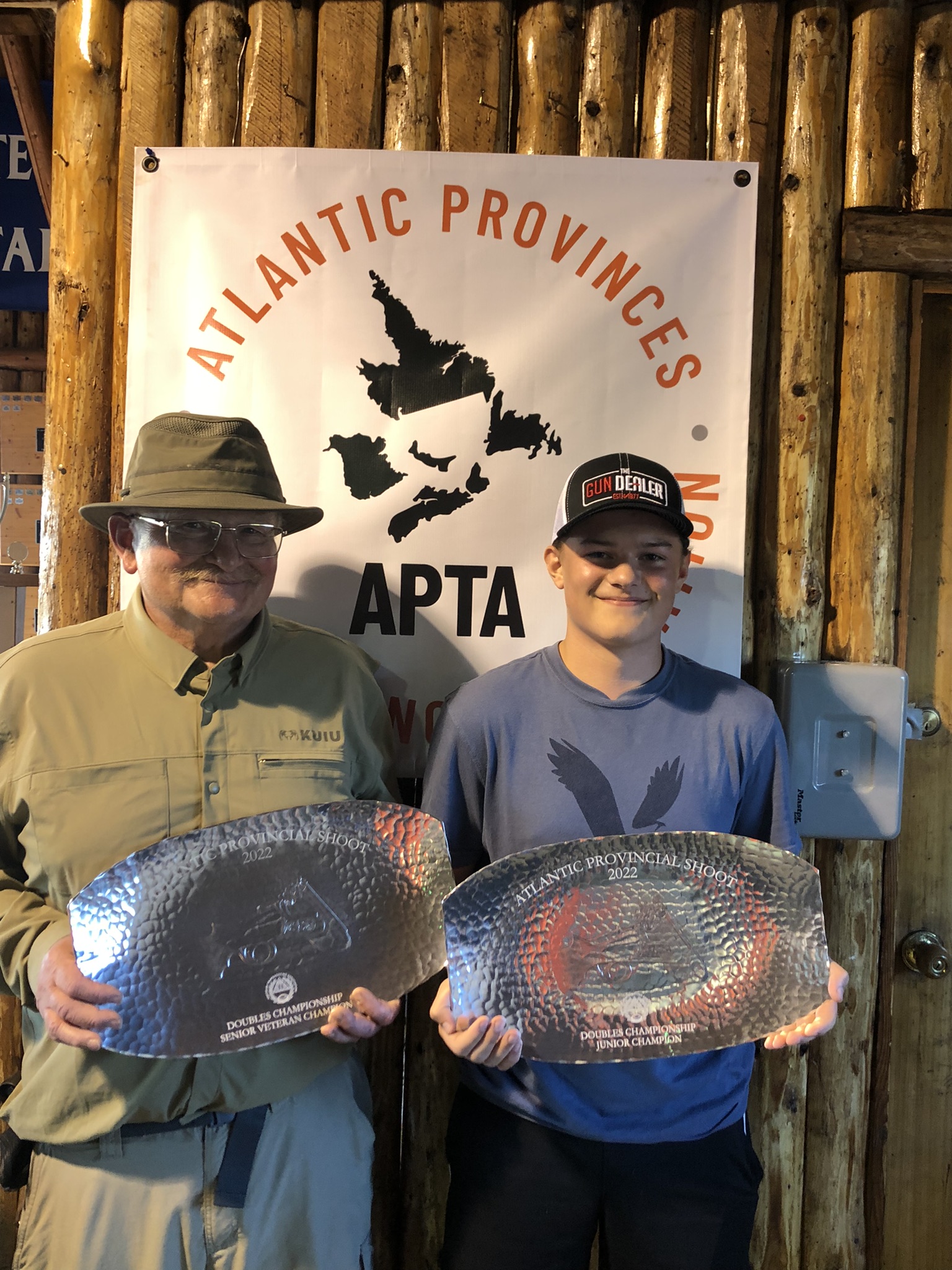 In the Open Categories, visiting Ontario shooters Eric McNeil won Veteran and Brad Mann won the Sub Veteran category trophies. Derm Molloy, Atlantic Provinces' oldest trapshooter, won Senior Veteran.
Doug Blades, Andrea Bassan, Davis Atwood, John "Jack" Nicolle and Gary Nickerson take the Atlantic Provinces AA through D Class trophies.
In the Open Classes Troy Coldwell won AA, A Class was not awarded and Herbie Nickerson won B Class Open after a shoot-off win over Danny Boulet. Steve d'Entremont won C Class and Russ Brown won D Class.
Team Nova Scotia (Reynold d'Entremont, Aubrey Spinney, Clyde d'Entremont, Rejean d'Entremont and Doug Blades) win the 5 Man Team race.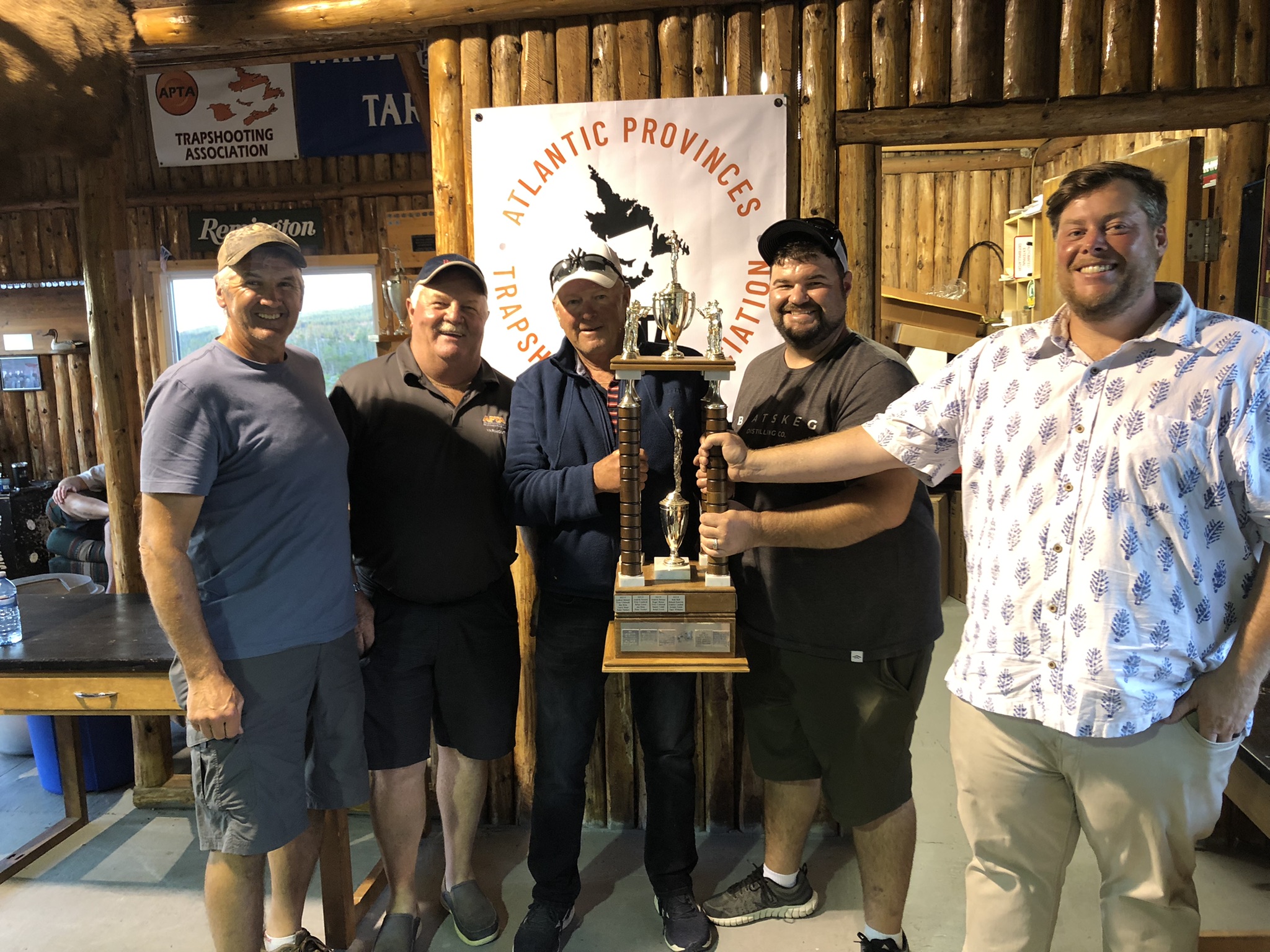 The Highland Gun Club won the Atlantic Provinces Club Points Championship competition with the St. John's Rod and Gun Club. The friendly competition awards points to each club based on how their club shooters finish in each Class. Highest score gets 2 points, next score gets 1 point and the loosing club has the honour of displaying the trophy at their club until the next shoot.
Highland Gun Club team rep Ken d'Eon presented Andrea Bassan of the St. John's Rod and Gun Club the trophy. It was rumored that Kenny was nervous about this year's competition and was relieved when the final points were announced.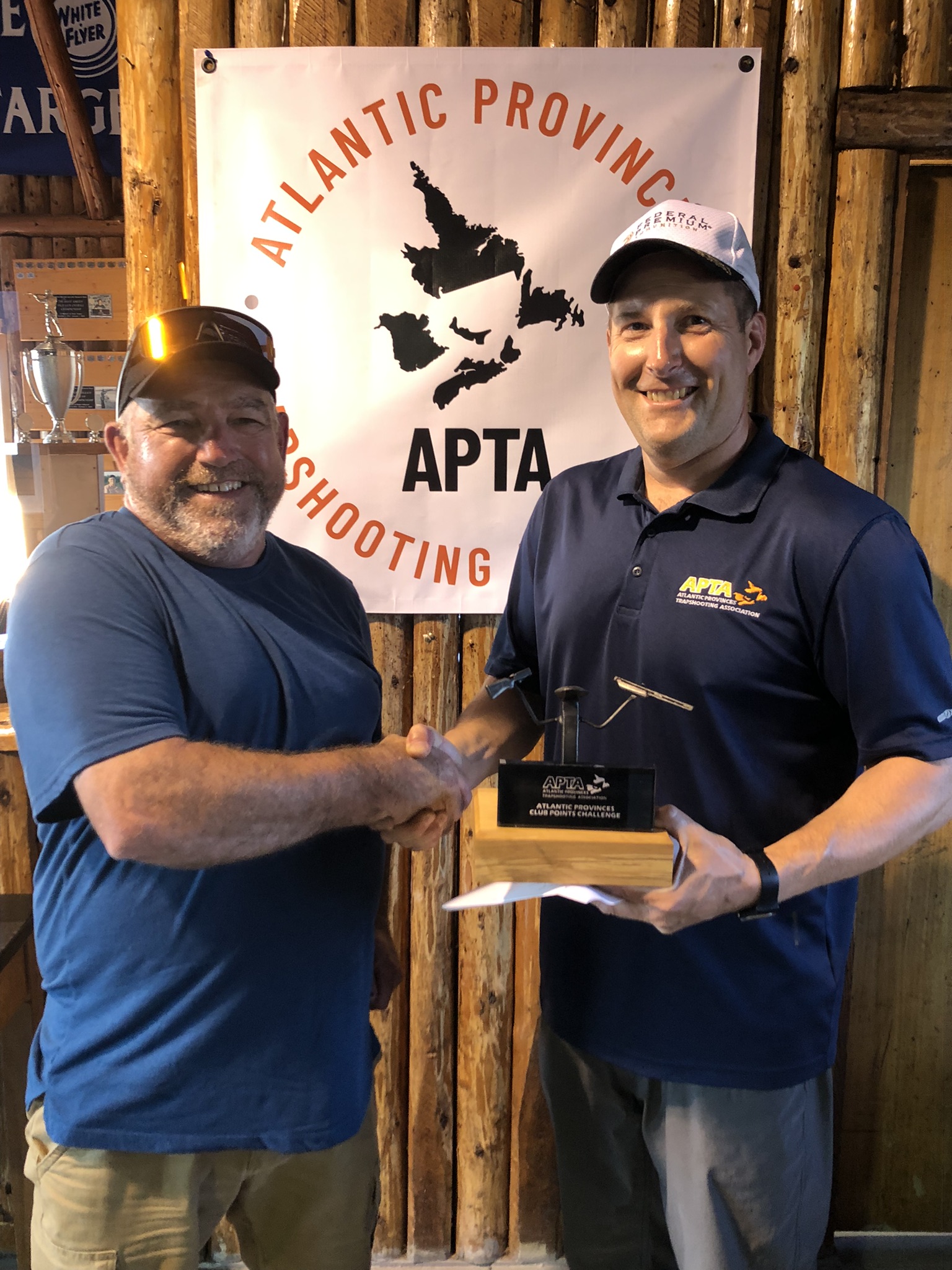 Ken d'Eon (left) and Andrea Bassan (right)
In Sunday's Doubles Championship, Troy Coldwell won his 13th consecutive Atlantic Provinces Doubles Championship.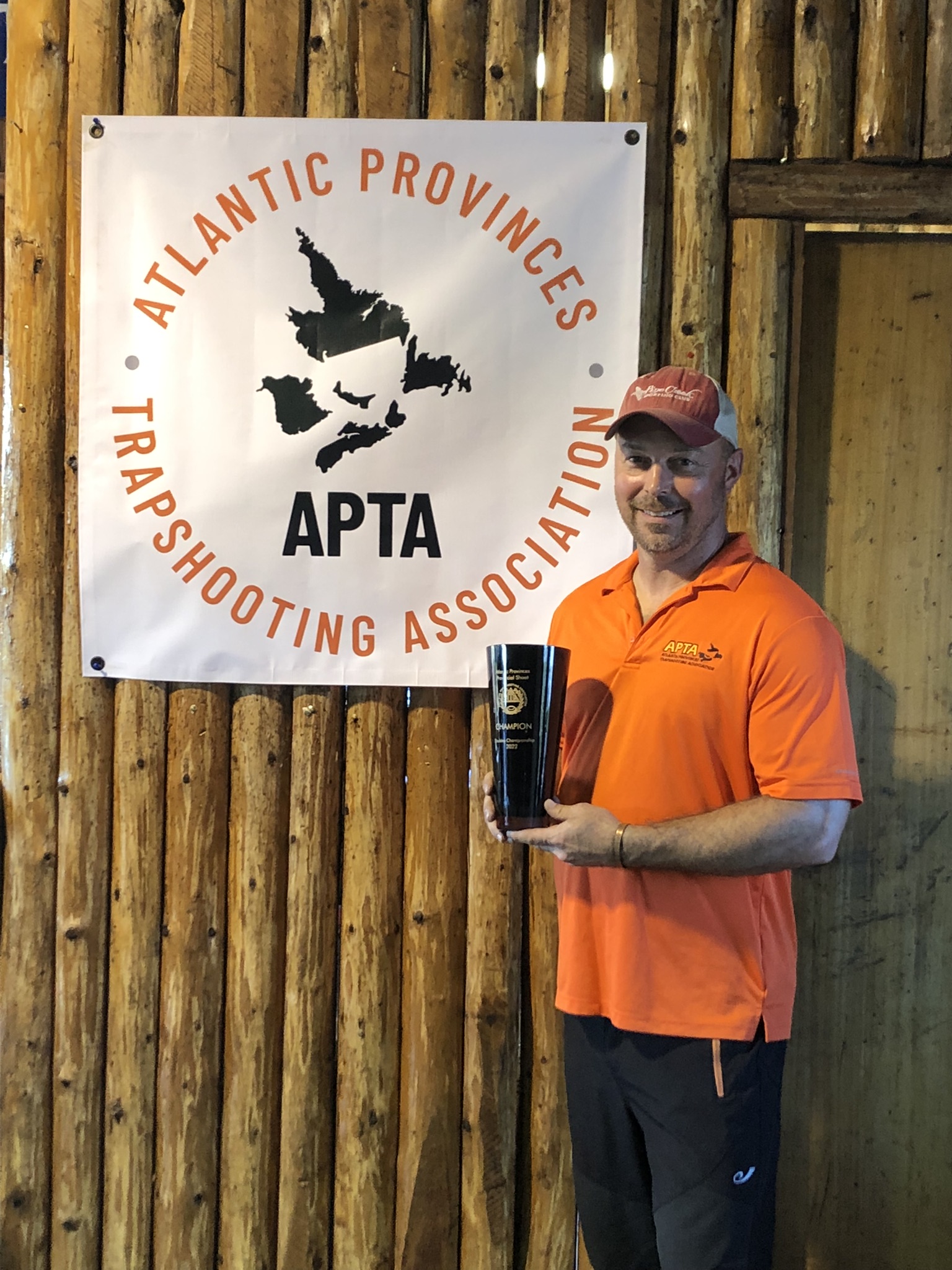 Joe Rosa won his 4th Doubles Runner-up award. Andrea Bassan, Larry Rosa, Davis Atwood and Clyde d'Entremont won A through D Classes. Coldwell and Rosa were the only AA shooters so there was no declared AA winner.
In the Atlantic Provinces categories, father and daughter shooters Herbie and Janaya Nickerson win Sub Veteran and Lady I awards.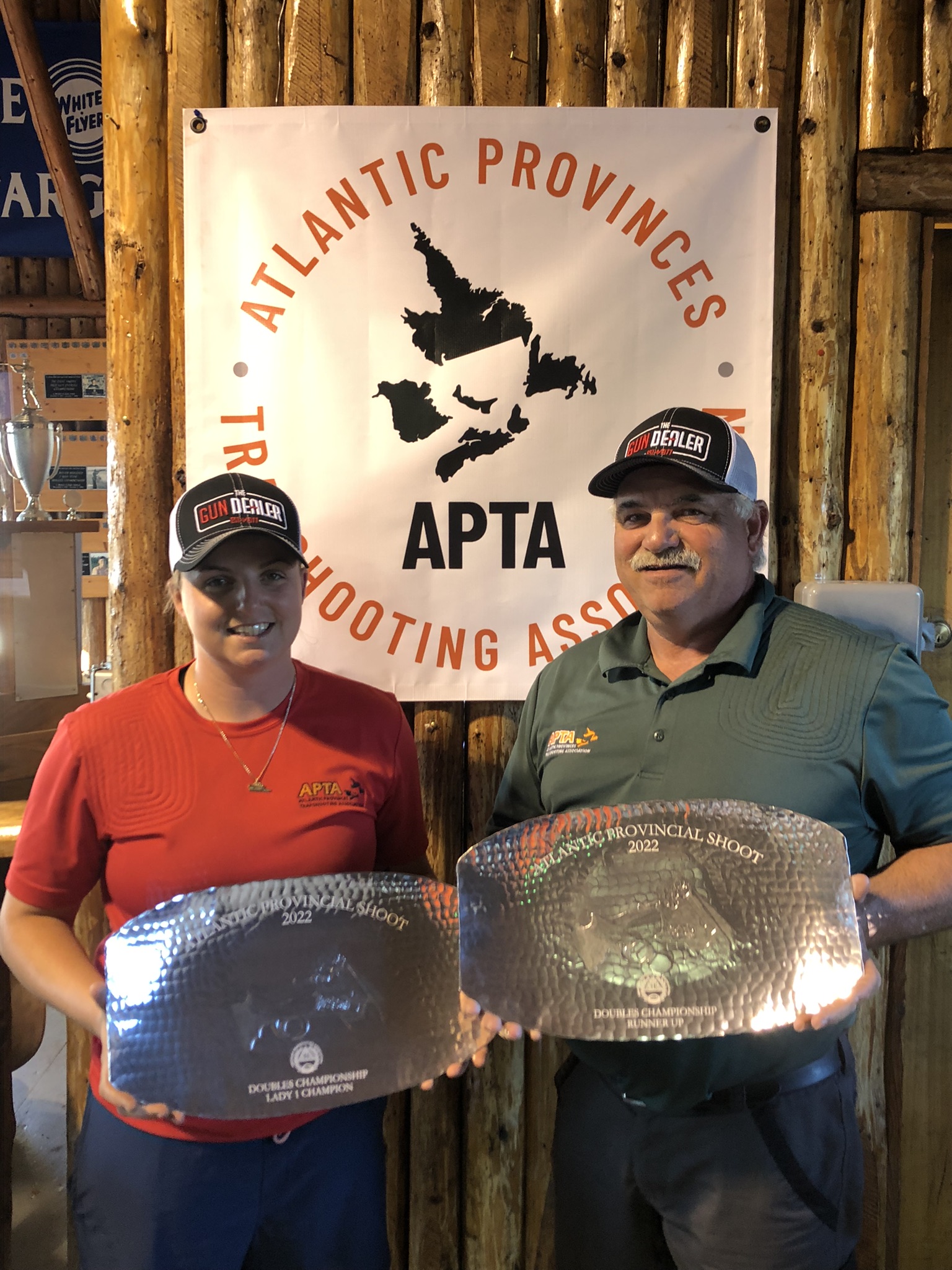 Reynold d'Entremont won Veteran and Tom McGarry and Maddox Benoit win the Senior Veteran and Junior trophies.
In the Open awards, Rejean d'Entremont won Champion and in the Classes Bob Morphy, Doug Blades, Gary Nickerson and Danny Boulet win A through D.
Davis Atwood won the Atlantic Provinces Handicap Championship and earns a one yard punch to the 22 yard line. The win comes just 2 weeks after winning the NS Handicap Championship which placed Davis on the 21 yard line.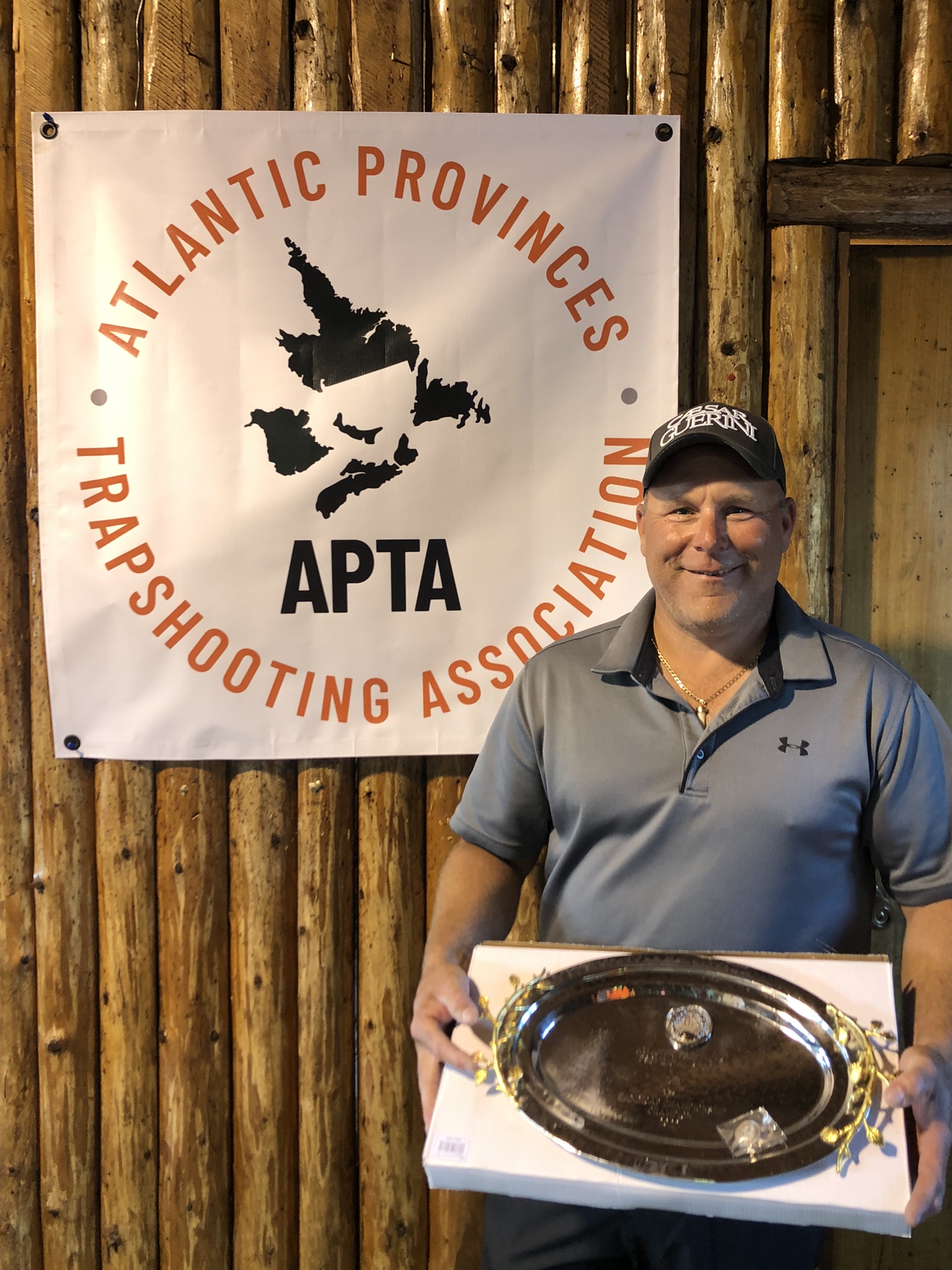 Gary Nickerson won Runner-up honours and Bob Morphy won his 2nd Open Champion award of the competition and a ½ yard punch to the 24 yard line. Quebec shooter Denis Brule won Open Runner-up.
Shoot-offs were required to determine Closed 3rd – 6th places and Open 3rd and 4th places. Joe Rosa, Troy Coldwell and Doug Blades tie and finish 3rd, 4th, and 5th after the shoot-offs. Alex Nickerson won 6th Place shooting from the 22 yard line for the first time. Aubrey Spinney won Open 3rd and Rejean d'Entremont won Open 4th place.
Shoot-offs were also needed for Sub Veteran and Veteran categories. Clyde d'Entremont won Sub Veteran over Shawn d'Entremont and Reynold d'Entremont won the Veteran category over Lloyd Litwin. Janaya Nickerson won Lady I. Tom McGarry and Maddox Benoit win their third Senior Veteran and Junior category trophies of the tournament.
The shoot-offs continue in to the High All Around (HAA) and High Over All (HOA) competitions.
Joe Rosa and Davis Atwood tie for the HAA. In the 20 Singles, 10 Handicap and 5 pair of Doubles shoot-off, Rosa out shoots Atwood by 3 targets to win the Atlantic Provinces HAA. Davis wins Open HAA.
In the HOA Troy Coldwell won the Atlantic Provinces HOA by one target over Reynold d'Entremont and Joe Rosa. In the shoot-off for HOA Open, Reynold out shoots Rosa by one target to claim HOA Open. This shoot-off was Joe Rosa's third of the day.
The 2023 Atlantic Provinces ATA Provincial Shoot will return to the Highland Gun Club in Yarmouth, Nova Scotia August 31 to September 3, 2023. Stay tuned to our website for details.
Thanks to everyone that helped make this year's shoot a success. See you next year in Yarmouth.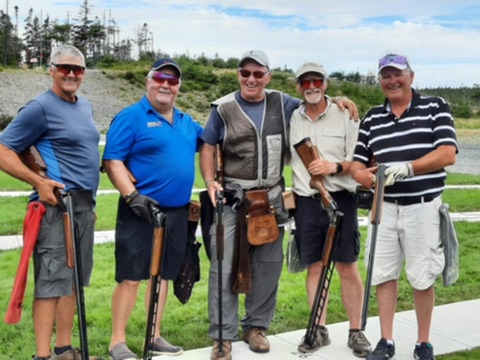 Shoot Results
Event 2 - APTA Handicap Scores
Event 4 - Atlantic Provinces Singles Championship Scores
Event 5 - Atlantic Provinces Doubles Championship Scores
Event 6 - Atlantic Provinces Handicap Championship Scores
Event 7 - Atlantic Provinces High Over All Scores
Event 8 - Atlantic Provinces High All Around Scores
Photos