Previous Years
2015 Atlantic Provinces Trapshooting Championships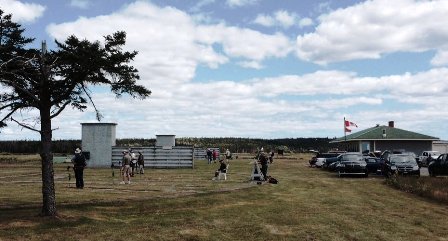 Photo Credit: Patrick Guillemette
This year's shoot was held at Dartmouth Clay Target Shooting Association (DCTA), Cole Harbour, Nova Scotia
The Atlantic Provinces Trapshooting Championships is where top Trapshooters in the Atlantic Provinces of Canada compete for annual ATA trophies. Participants experienced beautiful blue skies. warm weather mid to high 20's (Celsius) and light to moderate winds which made for decent but sometimes challenging targets.
In attendance were the regular AP competitors from Newfoundland and Labrador, Nova Scotia and New Brunswick. In addition to our regular participants, 10 shooters from Quebec and Ontario also registered for the event.
Shoot Highlights:
Andrea Bassan took the ATA Singles Trophy for the 2nd time – previously winning in 2012 when the shoot was last held at DCTA
Troy Coldwell captured the Singles Runner up, Doubles Championship (5 straight years), 4th Handicap and the HOA and HAA honors.
Aubrey Spinney tied Bassan for the Doubles Runner Up honors and won in a shootoff.
First time competitors at the annual APTA shoot were Janaya Nickerson and Alex Nickerson both from Southwest Nova Scotia.
Quebec shooters dominated in the Open Category and took all 4 Open trophies in the AP Handicap.
Quebec ATA Delegate Peter Grant took the Singles Open Champ for 2nd year in a row.
19 yarder Denis Brule from Quebec won Preliminary Handicap.
20 yard shooter Steven D'Entremont won the AP Handicap Championship and received his first Handicap Yardage.
Team Newfoundland dominated the Team events capturing the 5 Man Team Singles and with the Bassan / Coldwell duo taking the 2 Man Team in Singles and Doubles.
1st time competitor at the annual AP Shoot Janaya Nickerson captured the Lady I trophies in all events, Gina Surette Lady II Champion in Singles and Handicap and 1st time Junior competitor at the AP Shoot Alex Nickerson captured the JR honors.
Sub Veteran competition was close with Brian Macleod, Brian Blades and Reynold D'Entremont close in all Sub Veteran Championships. Reynold D'Entremont was victorious in Singles while Brian Macleod captured Doubles Sub Veteran honors. D'Entremont and Blades tied for Handicap Sub VT where D'Entremont edged Blades in a shootoff to capture this year's Sub Veteran Handicap title.
Alan Skinner shoots his first 25 straight in ATA competition and Valerie Maher shot a personal best score in ATA competition.
APTA Business Meeting Highlights:
The 2016 Atlantic Provinces Trapshooting Championship will be held at the St. John's Rod and Gun Club, Newfoundland, September 2 to 4, 2016.
Elected APTA officials are:

Andrea Bassan – ATA Delegate, CTA Delegate and APTA President
Troy Coldwell – APTA 1st VP
Monty Petipas – ATA Alternate Delegate
Doug Blades – Secretary Treasurer