Previous Years
2014 Atlantic Provinces Trapshooting Championships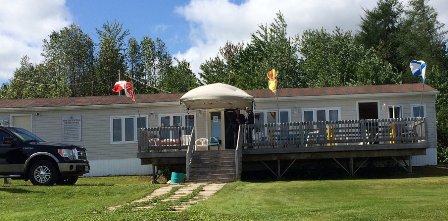 Photo Courtesy of the Moncton Gun Club
The 2014 Atlantic Provinces ATA Provincial Shoot was held on August 29-31, 2014 at the Moncton Gun Club in New Brunswick.
Shoot Highlights:
The weather was sunny and seasonal. STRONG winds and hungry, aggressive mosquitoes plagued shooters throughout the tournament.
ATA Life Member Jerry Stafford returned to shooting after a 5 year absence. Colby Stafford, his grandson, also registered his first ATA targets at this shoot.
Shooters from Nova Scotia, New Brunswick, Newfoundland, Ontario and Quebec attended the tournament.
There were plenty of category shooters, and for the first time in several years a Junior Shooter. Three lady shooters competed, and it was nice to see numerous SBVT, several VT, and SR VT shooters attend.
Troy Coldwell won all but one of the Championship Events. Coldwell tied with Alexander Cribb for top resident score in Handicap and accepted Runner Up after the shoot off.
Team NL won the 5 MAN TEAM Competition - Team NL consisted of Andrea Bassan, Troy Coldwell, Joe Rosa, Brian Lewis and Peter Tucker.
Bassan and Coldwell also won the 2 MAN TEAM Competition in Singles and Doubles.
The Annual General Meeting of the APTA was held on Sunday, there were no changes to the AP Executive:


ATA, CTA Delegate and APTA President: A. Bassan
APTA VP: T. Coldwell
APTA Secretary & Treasurer: D. Blades.