Previous Years
2016 Atlantic Provinces Trapshooting Championships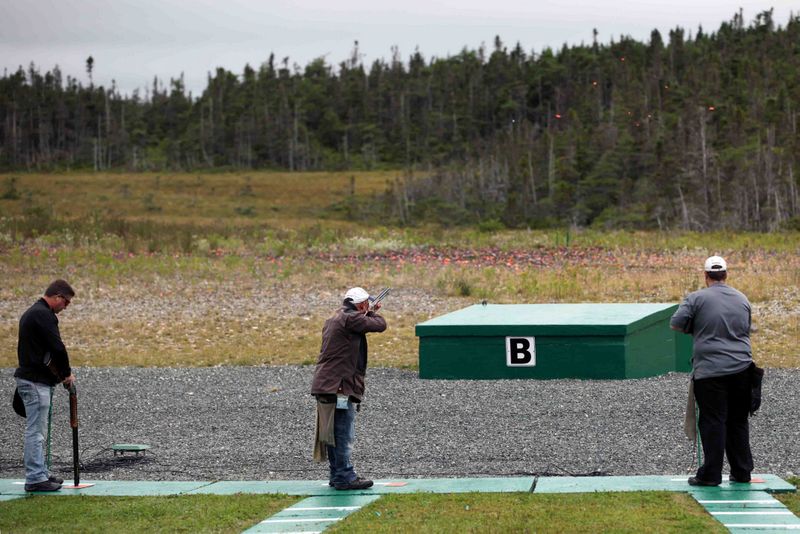 Photo Credit: Kevin Healey
The Atlantic Provinces (AP) Trapshooting Championships returned to Canada's eastern most province September 2-4, hosted by the St. John's Rod and Gun Club. In attendance were regular AP competitors from Newfoundland and Labrador, Nova Scotia and New Brunswick. In addition the club played host to shooters from Saskatchewan, Ontario and Quebec. Attendance was up as much as 30% in the Doubles events and 10% on average for the Singles and Handicap events. Shooters experienced typical challenging East Coast Targets, the weather cooperated with relatively mild wind and cool temperatures, the rain managed to stay away for the entire shoot.
Shoot Highlights:
Troy Coldwell dominated the 2016 Championships claiming top honors in all Singles and Doubles events and placed 6th in AP Handicap. Coldwell also claimed the HOA and HAA titles.
Herbie Nickerson, shooting his new Caesar Guerini Summit combo, captured the AP Handicap Championship and earned a 1 yard punch. Tying Nickerson for top handicap honors was Russ Brown and John Bellows who claimed Runner Up and 3rd place respectively as determined by shootoffs.
Aubrey Spinney claimed the Preliminary Handicap Championships earning a 1/2 yard punch.
Doug Blades captured the AP Singles Runner Up outright and AP Doubles Runner Up after a shoot off with Aubrey Spinney who was last year's Doubles Runner Up.
Canadian Trapshooting Association President Dwight Smith and fellow Saskatchewan resident and ATA Delegate Rod Boll dominated the 2 Man Team races and won the Open Singles and Doubles Champ awards.
Smith also took the High All Around Open title while Boll captured the High Overall Open title
Visiting Ontario shooter Wayne Ehgoetz captured the preliminary Handicap Runnerup award and Open Handicap honors with the high score in the AP Handicap Championship.
Team "Non Residents" members Dwight Smith (SK), Rod Boll (SK), Richard Bootsveld (ON), Tiger Williams (SK) and Godefroy Cardinal (QU) took the 5 Man Team Singles Trophy
Janaya Nickerson dominated the Lady I category in all events while Reynold D'Entremont dominated the Sub Veteran category
Senior Veteran shooters Derm Molloy and Paul Bailey competed for Senior Veteran honors in Singles and Handicap with "Old Man Bailey" claiming this year's honors.
Bob Mercer returned after an 18 year absence from competitive ATA shooting to claim the Senior Veteran award in the AP Doubles Championship.
Janaya Nickerson and Kevin Healey both shot their first 25 straight in ATA competition.
APTA Business Meeting Highlights:
The 2017 Atlantic Provinces Trapshooting Championship location to be determined and announced at a later date.
Elected APTA officials are:

ATA Delegate, CTA Delegate and APTA President - Andrea Bassan
APTA 1st VP - Troy Coldwell
ATA Alternate Delegate - Vacant
Secretary / Treasurer - Doug Blades