Site Update Archive
Site Update Archive
2018 Southern Grand Handicap Champion - Peter Tucker - 99/100
Congratulations to Peter Tucker for winning the 2018 Southern Grand Handicap Championship with a score of 99/100 - a personal best handicap score for Peter. This annual ATA Satellite Grand held at the Silver Dollar Shooter's Club in Odessa, Florida is one of the ATA's premier shoots and attracts some of the top shooters in the ATA ranks. Peter's 99 in the main Handicap event topped a field of 495 shooters. Well done Peter!!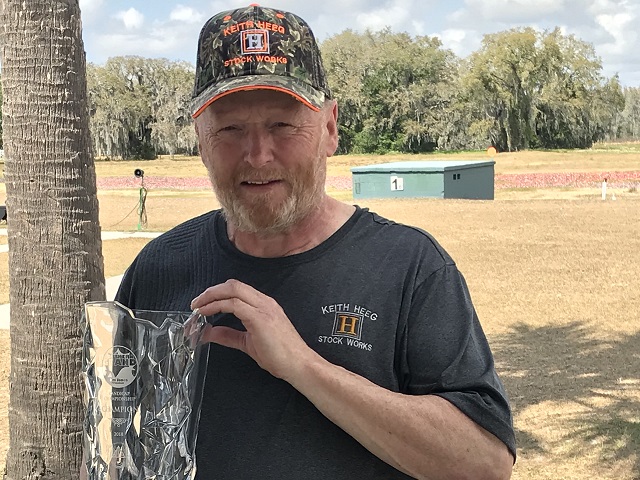 Photo Credit: Trap & Field Magazine.
Copyright to the Amateur Trapshooting Association. All rights reserved.
March 31, 2018
APTA Abroad section updated with 2018 Southern Grand highlights and photos
Monty Petipas attends the Florida State Shoot. Shoot story coming soon
2018 PSC & APTA Gun Lottery deatils are being finalized. Details coming soon
Highland Gun Club kick off the 2018 AP ATA Registered Shoot season - see Club Shoot Results section for details
March 20, 2018
2018 Southern Grand APTA Abroad Updates coming soon
2018 Southern Grand Handicap Champion Peter Tucker - 99/100
Herbie and Janya Nickerson both earn yardage at the 2018 Southern Grand
March 9, 2018
APTA Abroad updated with 2018 Spring Grand results
2018 Spring Grand / Arizona / Grand Canyon picture gallery added
March 5, 2018
The March 2018 Around the ATA article has been added
Trophy List for the 2018 Canadian Trapshooting Championships
2018 Manitoba Shoot Schedule - see page 39 for Canadian Trapshooting Championship details
Canadian Shoot Program will be available soon
APTA Abroad update coming!
PSC League Update under Club Centre --> Shoot Results
CTA President's House Fire
In the early hours of this morning, Dwight Smith, Canadian Trapshooting Association president, lost everything in a house fire. While he and his dog escaped, there is nothing left but ashes. A go-fund me page has been started to help Dwight on the long road to putting his life back together. Please consider donating and share widely. Click here to donate.
February 3, 2018
A Site Update Archive has been added with a complete list of updates. Our main page will now only show the most recent updates.
The APTA Abroad section updated with 2018 shoots our shooters will be attending. Stay tuned for updates!
The February 2018 Around the ATA article has been added.
January 30, 2018
Club Shoot Calendar section updated.

Atlantic Provinces ATA Registered Shoot Listing added
Petitcodiac Sportsman's Club Winter League information. 20 shooters registered!
2018 Atlantic Canada Shoot Schedule added

Atlantic 1000 Target Purse expanded to include all shooters registering targets in the Atlantic Provinces
January 21, 2018
The APTA Shoot Results pages have been updated from our archives

2003 and 2002 shoots have been added
picture galleries added for numerous years

If anyone has shoot information to fill in the gaps provide please forward them along
January 14, 2018
Our new SHOOTATLANTIC website has been launched with a completely redesigned Menu Bar, a mobile-friendly design and these new features:
The main page now includes an image carousel to give shooters quick information on what's happening locally and around the ATA.
The Club Centre menu is where shooters can find local gun clubs, upcoming shoot information, shoot results and where Gun Club Managers can find a link to all the ATA information they need.
The APTA Hall of Fame is in the works so stay tuned for more information.
The APTA Abroad section now includes the Canadian Trapshooting and Grand American Results and highlights our AP shooters as they compete around the ATA. A new image service will also allow us to post more photos of our APTA'ers Abroad.
The Around the ATA is a monthly Trap and Field article written by the Atlantic Provinces ATA Delegate. The first article article is for January 2018
The 2017 APTA Results have been updated. Check out the APTA Shoot menu and the APTA Shoot Results section.
---
© Atlantic Provinces Trapshooting Association 2018